[page=Seasons Forever - The QuakeIII Mod]
Seasons Forever. The unique mod for QuakeIII based on the four seasons of the year, Summer, Winter, Autumn and Spring.
First up, the SForever Staff has decided to take on the Winter aspect of things! Taken from the SForever Website:
Its winter and you fight with the most commonly found weapon... Snow. That's right; it's one massive free-for-all snowball fight. Your arsenal for this season will include Snowballs and Yellow snowballs and guess what, your ammo is everywhere!
Several modes such as; Deathmatch, Team-Deathmatch, Capture the Flag, Tournament.
Also as a sweet bonus, for the heck of and just pure coolness of it, weapon specials known as "Hypes" will be included.
Hype will charge as you play, it will jump when you hurt or knock out someone, and once fully charged you will get to select from a variety of surprises; Snowwall, Curveball, Fastspeed, Multishot and the Snowman.
I took a little time out to have a look at this mod, and get to know its creator, jian.
Check out the Interview on the next page.
[page=The Interview]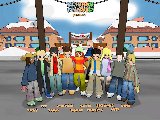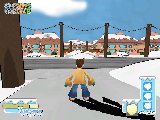 ForK: Firstly, just tell me a bit about yourself, like who you are, where your form, what you do for a living, ect.
jian: I am Michael K Clements - jian, I'm from Newcastle England and I do nothing for a living accept for modding.
ForK: Ok then.. what about a dog? You got a dog right?
jian: err no, I have a brother, will he do?
ForK: Mooooving right along. How did you come up with the idea Seasons Forever? What inspired you to make a mod like this? Were you deprived as a child of pissing in the snow, picking it up and throwing it at your brother or something?
jian: Hahahah.. err nooooo. Just over a year ago, one day, my friend Lee had thrown a chestnut (conker) at my younger brother smacking him right in the head. It then hit me, "no one had came up with a Conker Games mod". For those who don't know what conkers are, check our FAQ. Later on during the week, I had thought of the name "Autumn Forever Online" so I went ahead and tried to find some members to join the team, when it hit me again, just Autumn on its own may look weird, what could the other seasons be? Of course after that winter (Snowballing) summer (Water Fighting) and spring (Lawn Mower Racing) were born, all joining to become SEASONS FOREVER.
It is inspired by my love for unique things, I look around at the games and mods of today and they're mostly based around guns and warfare. To be honest, that's been over and done with and we need new ideas instead of copying other games and making them slightly different and call it a "new" game. Looking at SForever, you haven't really seen anything like it in a game before; well at least we don't see it enough anyway. I want to start a revolution with unique mods and hopefully one day get is started in the games industry too. One thing I want to be acknowledged for is my creations. The public have acknowledged SForever for being unique as it no longer looks like Quake 3.
ForK: Well, I can tell you, it's probably the most unique mod I have ever seen. Ok so we are basically looking at the moment of the winter edition of SForever. What kind of weapons will you have, and how can you score with them?
jian: Well we had thought JUST snowballs maybe a bit repetitive, so we decided to spice it up a bit by adding a "rare" find in the maps, yellow patches will be placed in the maps ready for a player to create a snowball on the patch therefore giving you a Peeball.
ForK: HAH! You WERE deprived! Sorry, Continue… I'll just take my pills…
jian: LOL well, The Peeball will do more damage of course, but it doesn't end there. In some maps their will be a catapult (A giant tree like slingshot on a merry-go-round playground thing) which allows the player to climb aboard with snowballs and load the sling up and fire it at a much damaging pace. Getting hit with that in the head will certainly take you down to the ends of the HP. After thinking of other things to add, I had an idea of a level up type system, this system was evolved into becoming the Hype-O-Meter. Your hype points will increase naturally but will have a much bigger increase if you hurt or knockout someone. Once the hype meter has been filled, 1 of 5 Hype Specials can be chosen. The hypes are:
-Snowwall - Pull a defense snowwall out of the floor to protect you from oncoming attacks.
-Curveball - A homing snowball attack that is quite powerful .
-FastSpeed - Slows everyone down while you move almost normally also you are more resistant to damage.
-Multishot - Throws 5 of the same snowball at the enemy at all once.
-Snowman - Pull a snowman from the floor that chases the closest opponent, if he's close enough he'll grab onto your back. He will blow up 10seconds after him being summoned.
With these hype specials, tactics can be used to win. Also I mentioned being knocked out, we felt that death maybe a bit too much to expect during a snowball fight but the scoring system is the same as a normal death match.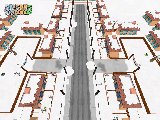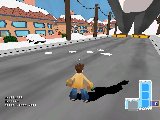 ForK: Ok, after all that, where the hell does the penguin come in? I've seen it in screenshots, and I've seen it in the Birthday Video (link here for those playing at home), but what the hell is it? Well, I know its a penguin, but WHY, WHY is it there!?
jian: Hahah well sometimes its just fun to add a little randomness, we plan later on to code in some special Non Player Character code so the penguin will be able to stomp its way up and down the street making it an extra thing to look out for when your on the street, cause you'll get stood on if you don't. Godzilla Style!
ForK: Ok, so you have decided to make this unique mod on the Q3 engine, are there any reasons for that?
jian: Well for 3 years of my life I have been modding for quake 3 mods, of course the majority had died. I never actually fully lead my own mod until now, but all the past experiences have taught me so much on how to overcome the survival stage of a mod. I'm pretty sure SForever (Winter Edition) is past the survival stage considering we're going In-game extremely soon and hopefully will be released reasonably soon. I knew a few very talented modders that had worked for previous mods with me that knew a lot about quake 3 as me, so when we decided to go for it, we did it fast and that's why people have seen so much, in the short time people have known us.
ForK: Ok well, a question I know is going around a little bit; is there any plans for a change to HL2? Or are you comfortable on Q3? Whats going to happen with all that?
jian: HL2 was actually the original engine we planned it for, but since it got cancelled over and over we kinda gave up on it, reading about the Source engine kinda made us want it because of the technology involved into it, like weather effects, giant maps, huge poly limit. As we went on, we thought, do we REALLY need that engine to pull this off? Of course it doesn't, even if SForever went to something more powerful, it would STILL look the same.
ForK: Speaking about looks, why did you go for the cell shaded, cartoony look? And how do you go about making it look so good!
jian: I've always loved the different look of cell shaded games; I adored Jet Set Radio for the whole new way to make a game look. Also to be honest, it was kind of an opportunity to mess around in skinning and see how it looked. When I was making Michael's jumper, it started to look really nice on him and I decided to skin the whole thing. If you look at Michael, he's is my first ever proper skin. For the maps, I had started mapping the playground map and it was full of dark shadows, buildings were straight and looked no where near cartoony. My friend Lee (again) gave me the idea of making the buildings look as funky as the characters did. I then went on my way to create funky looking houses with cool shaped windows etc, and it turned out really nice, right then I activated the cell shading for the maps and it looked absolutely amazing. During the making of the map, Lee had found a way to outline in maps; I wasn't sure on the look of it with the players not being outlined. Once he shown me how, it looked no longer like quake 3, infact not like many games and mods out there. Another thing we have in SForever is extremely un-detailed textures, some textures are close to being 1 plain color, and that is kind of a secret to make SForever look so addictive looking and cheerful, because we don't try to make it look good. It ends up looking good. Recon people will think I'm selfish claiming all the jobs for me? Because I do most of them :P
ForK: So when are we going to see a Character based on a big important person? Like .. me? We can call him Cody .. that's C.O.D.Y.
jian: LOL, well we were thinking of holding a Custom Character Competition, so the Winner would be able to give us a description/photo/art of a human shaped person, and we would model and skin and put it in game with the rest. So you'd have to win for Cody to be in. That's if we hold one of course.
ForK: Sif winz, I should winz by default! ForK allways WINZ!
ForK: Anyway, have to wrap this up pretty soon. Just recently you got some of the Glorious spotlight in PCGamer UK. How does that make you feel and how are the mod team feeling?
jian: Being in PCGamer UK made the team and myself especially feel extremely happy, to have your own creation be in the best selling pc games magazine in the UK just makes you shiver at times, I remember getting the email and shaking so much from disbelief. The team also feels proud that they are in a working mod where their work won't be wasted away, I also feel proud of the team for aiding me to bring SForever to where it is today. I'd like to thank them. As I said before, my dream is to be acknowledged for what I create, PCGamer UK has just done that and so has modDB and every single fan out there. Thank you.
ForK: No, thank YOU for taking the time to have a little chit chat with me! Any last words before you die? Errm sorry .. just .. any last words?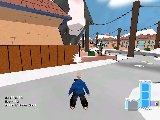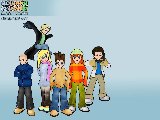 jian: Hahaha yes, Join our FORUMS and IRC (WE'RE ON GAMESURGE!)
ForK: Well there you have it folks, Seasons Forever! The most Unique mod I have seen in a very long time! Make sure you check out the following links for more information and lots of juicy media!