They always come to the same conclusion: That forcing players to replay the same part of a game again and again is just frustrating, and free loading and saving is the only solution.
Saving is bad.
Characters cannot die in games. Sure they can die, but the player will reload and try again until they don't die. Imagine if we could save and re-load in real life - It would be a superpower, you could achieve anything you wanted to without even making a mistake. In games it is no different, it is also a superpower. Saving in games eliminates the fear, tension and emotion that would otherwise be present if it was an experience in real life.
In real life, thugs and trouble makers only fight when they have a distinct advantage, because for most humans a one on one fight is scary. "What if I lose?". Yet in a game the moment you feel any tension you just hit the quicksave button and set yourself at ease. You don't have any doubt or worry, no "what if"s haunting you. Even equal odds are scary when your life is at stake.
Saving is good.
So why is it bad to take out the save/load ability? Because you lose your progress, all your hard work. You are robbed. Its just not fun, its frustrating, the player will give up and never play it again. Never steal what the player has earned, its the prime directive for any game designer. Remember that, game designers, or I will hunt you down.
Real life
So ask yourself this question: How do we get by in real life without saves or extra-lives? hmm?
1. Dying doesn't happen that often, actually, it can be quite hard to die.
2. People look after their lives. Nobody wants to die.
3. If faced with a dangerous task, one would proceed cautiously and plan with care. They would formulate backup plans and escape routes should things go wrong.
---
Solutions?!
1. Blurring the line between life and death.
Characters in games are both too tough and too fragile. A bullet does not hurt a character, it shaves off a small percentage of hit points, and they do not feel or express pain, so they don't fear the bullets. They run around like chickens trying to put more bullets into the enemy first. They are not encumbered by injury or fear of death, then suddenly their hitpoints cross the 0 line and they drop dead. I'm talking about players as well as AI's.
Games need a proper medical system, something more realistic that blurs the lines between life and death. Here's a really old screenshot from Kenshi, dating back to 2008 so forgive the bad artwork: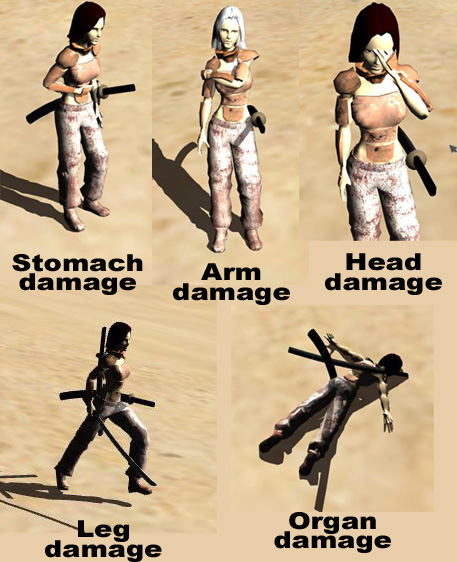 The damages here are not just for visual effect. A character will use a sword one-handed if an arm is damaged, or be unable to even hold a sword at all if both arms are bad. Same for leg wounds, slowing you down or totally crippling you so you have to be carried. This effectively forces a character to keep out of the fighting before he dies.
2. Enemy AI characters don't have enough fear of death.
War is terrifying, an army or opponent that does not fear death is formidable. I know AI's use cover and stuff nowadays, but they need to be a little less aggressive, more careful.
The enemy has to fear death as much as the player-who-cannot-save. The game will turn more into a game of chess and tactics than a click-reaction test. The tension rises, the sweat breaks out.
3. The player needs to re-learn game-playing.
Its essential that the designer teaches the player the line between life and death, but without dying. This is difficult and again it comes back to the medical system. When a character comes close to death it must be made clear how close it was. As long as the player does not do anything stupid it should be possible to play the game through with no deaths. Its a fine line to walk, but a lot can be done. In any situation it should be possible to save 99.9% of lives, but the player must somehow pay for it in return - Time and money cost, expensive doctors, effort and travel distance, slowing yourself down carrying people to safety, loss of potential profit, character recovery time…
4. The game needs to be well balanced.
A character must never die unless it is the players fault. If he dies because the character wouldn't respond to his orders, or took a stupidly dangerous pathfinding route, then it is the game's fault that he died, and this cannot be allowed if we have taken away saving.
---
Super-humanity...ness
As this article has been transferred from the old blog the comments were lost, so I will quote some of them here as some good points were made:
3. Snaga replies at 22nd July 2008 um 11:47 pm :

Sorry for commenting about this so late. I just want to point out something that you probably have thought about, but I think you didn't point it out specifically.

Many games force you to kill absurd amounts of enemies. A good example I think would be STALKER, because the killing destroys both the immersion and gameplay. Sadly game developers tend to concentrate solely on combat in games, thus there will be absurd expectations of the player.
As a counter the player must be super-human. This really is a pity. In some multiplayer games, you actually feel proud when killing someone.
This is a good point, I also don't like being superhuman in every game I play. It gets old and this is what marks the core difference between single and multiplayer games.
How to address this?
RPG type leveling is a good solution for this (when done right, which it rarely is) because you start off weaker than average, and then you EARN your super human abilities. This obviously wouldn't apply if you scaled all the enemies level to match the player's level all the time, like some kind of idiot game designer madman from another planet.
Give the player allies to help him and even the numbers. This is a reason why kenshi is squad-based, and you also have to seek safety in numbers by fighting alongside allies or at least those who share a common enemy.
Gratuitous resurrection
5. Paul D replies at 20th August 2008 um 9:29 am :

Interesting topic, you make some really good points. The problem is also that we are comparing the fact that we don't die often here in real life, as opposed to a game where potentially everyone is constantly fighting, and everyone is running around baring lethal weapons. So surely in a world like that, as a player you almost expect your character to die fairly soon.
[....]
A related point of discussion is the death of actual n.p.c's – I find it very annoying when a game character dies (in combat, or accident) but is then resurrected as if nothing happened, so that the story may continue. Okay, admittedly this is rare, but it happens and little breaks the immersion more.
Look at Mass Effect. Not only can your group buddies return from the grave after being blown up, its actually a feature of the game, whereby one of your upgradeable skills is the ability to quickly resurrect your AI side kicks.
I really hate that, but you know what? It's completely necessary, because they are terrible in battle and have no idea how to effectively use cover. For me, it's just shining a spot light on the flawed AI.
Even in a dangerous game world or a war, you can survive better by working closely as a team and being cautious. When you have no fear of dying, you will just charge straight in, get killed, then try the same again because now you know where the enemies are.
I hate magic resurrection too. That's why I'm going for a decent medical system instead. When a character goes down they are usually not dead yet and you have a chance to save them, but its not instant, you have to carry them to safety and give them realistic recovery time. At the same time this also adds an extra tactical element to the gameplay, especially during retreats when you have to decide whether to carry your wounded or leave them.
Thats all I have, feel free to weigh in with your ideas on the subject.