Hello everyone. In this article we will take a look at some of the game's mechanics and cards.
First things first. If you want to help us out as devs and provide your feedback we have some links at the end of the article. however, even if you don't want to get involved, do wishlist our game using this link: Store.steampowered.com.
Game mechanics
Lets start with some of the game's mechanics.
A character starts a mission with a deck of 10 cards. The first turn of a mission, each character starts with a hand of 5 cards, but some card mechanics or character traits/skills can alter this. You can play all of these cards during the character's turn.
Each card resembles an action the character can take, e.g. attacking or moving. All unplayed cards are moved to the character's discard pile at the end of its turn, then the character draws a new hand of 5 cards. If at any point there are no cards in the deck to draw from, the discard pile is shuffled into a new deck pile, so you will never run out of cards.
You can take up to 3 characters on a mission, each with its own deck of cards.
These decks can be expanded by a) destroying robots, b) finding and opening loot boxes on the playing field, c) visiting the card shop or the black market in the hide-out between missions or d) as a reward of a non-story mission.
Between missions, you can also upgrade and merge cards into better versions or completely new cards. But that is for another post.
Cards
Here is some insight about our card layout: All cards are laid out in a similar way. They are divided into 2 categories: Action Cards (square art box) and Reaction Cards (hexagonal art box).
We'll use the Exploding Bunny as an example.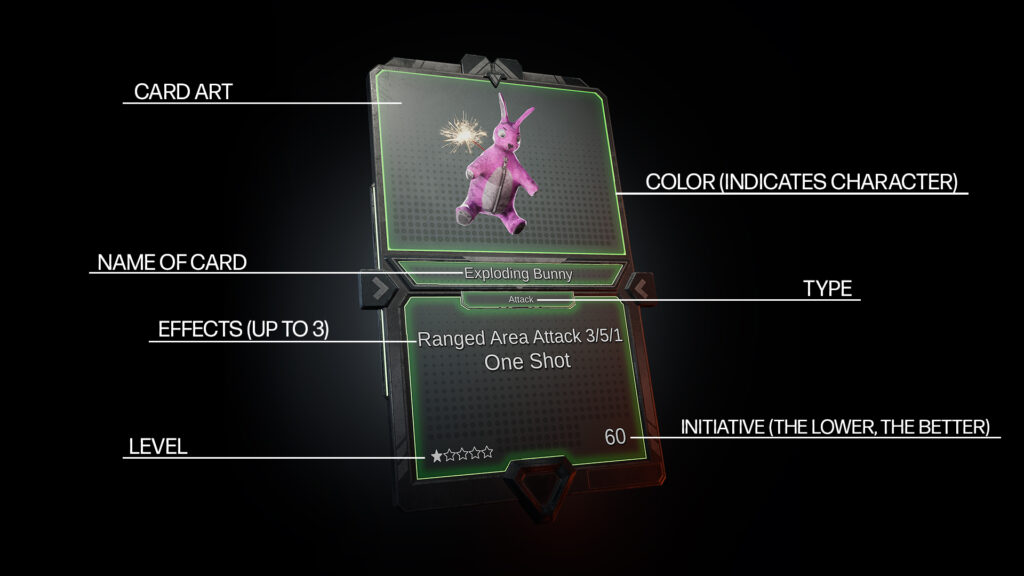 The border around the art is color-coded, every color specific to a certain character. A white border means the card can be used by any character.

Underneath the art, you will find text, explaining what the card does.

In the bottom left corner, there are stars (1/5 in this case), indicating the level of the card. Each time you upgrade a card, it will increase one level, up to a maximum of 5. More about upgrading cards later.

In the bottom right corner is a number. The value from every card in your deck is added up to determine the initiative value of your character. The lower your value, the better and this determines your turn order. More on turn order later.
Card Details
let's have a more detailed look at two individual cards.
here is the Exploding Bunny again, by far one of the most popular cards during all of the playtests we have been running so far. This cute bunny is stuffed full of explosives and does lots of damage.
The first thing you might notice about the card is that it has a green border. This means it's a card, that is exclusive to a character, in this case The Hunter. Every character will have access to 30 unique cards.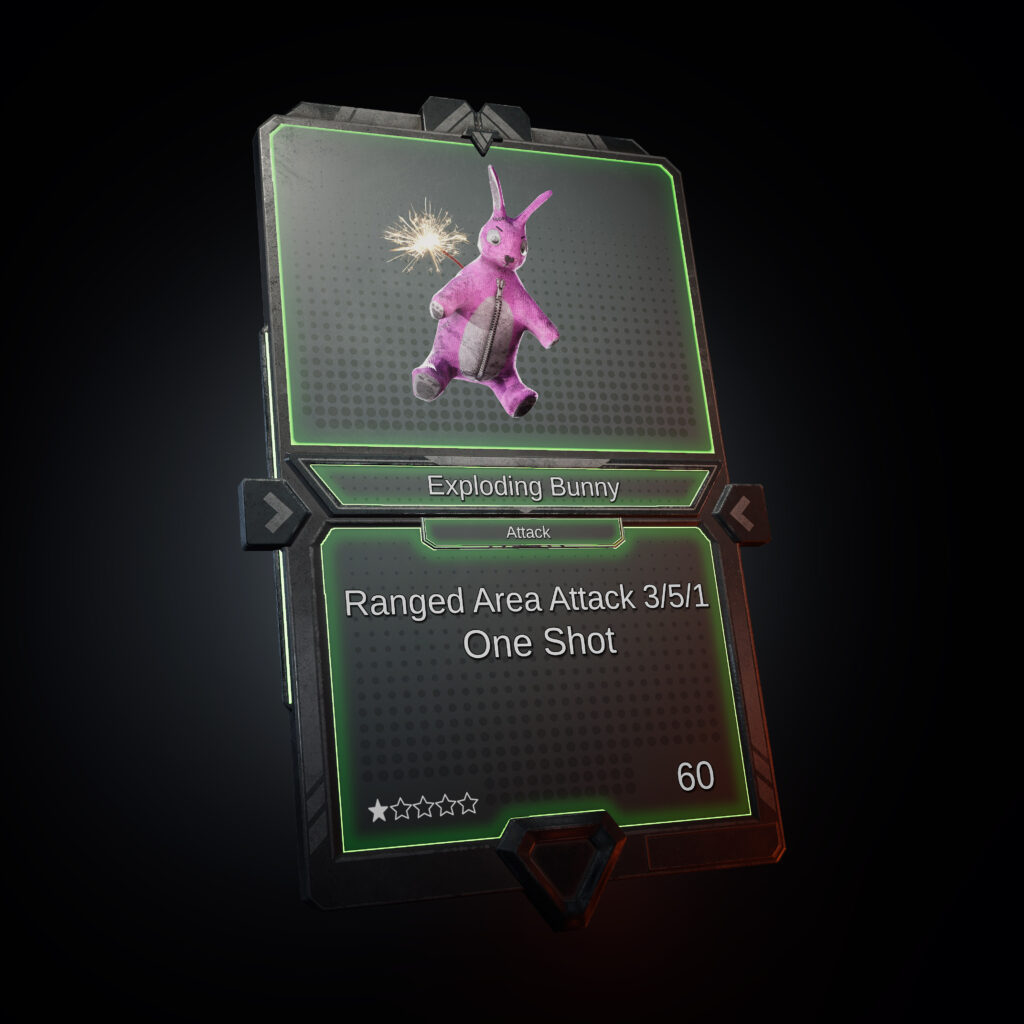 Taking a closer look at the card, it has the following texts and symbols:
"Ranged Area Attack 3/5/1". This means it has 3 throwing range, does 5 damage and has a 1 hex damage radius. Pretty powerful!
It's also a "One Shot", which means that once used, the card will not reshuffle into your deck once all your cards have been used/discarded.
Now, let's see it in action:
Let's look at another card, Let's Go, it allows your character to make a move. You can play as many Movement cards in your turn as you have in your hand. This is true for all cards in your hand, by the way.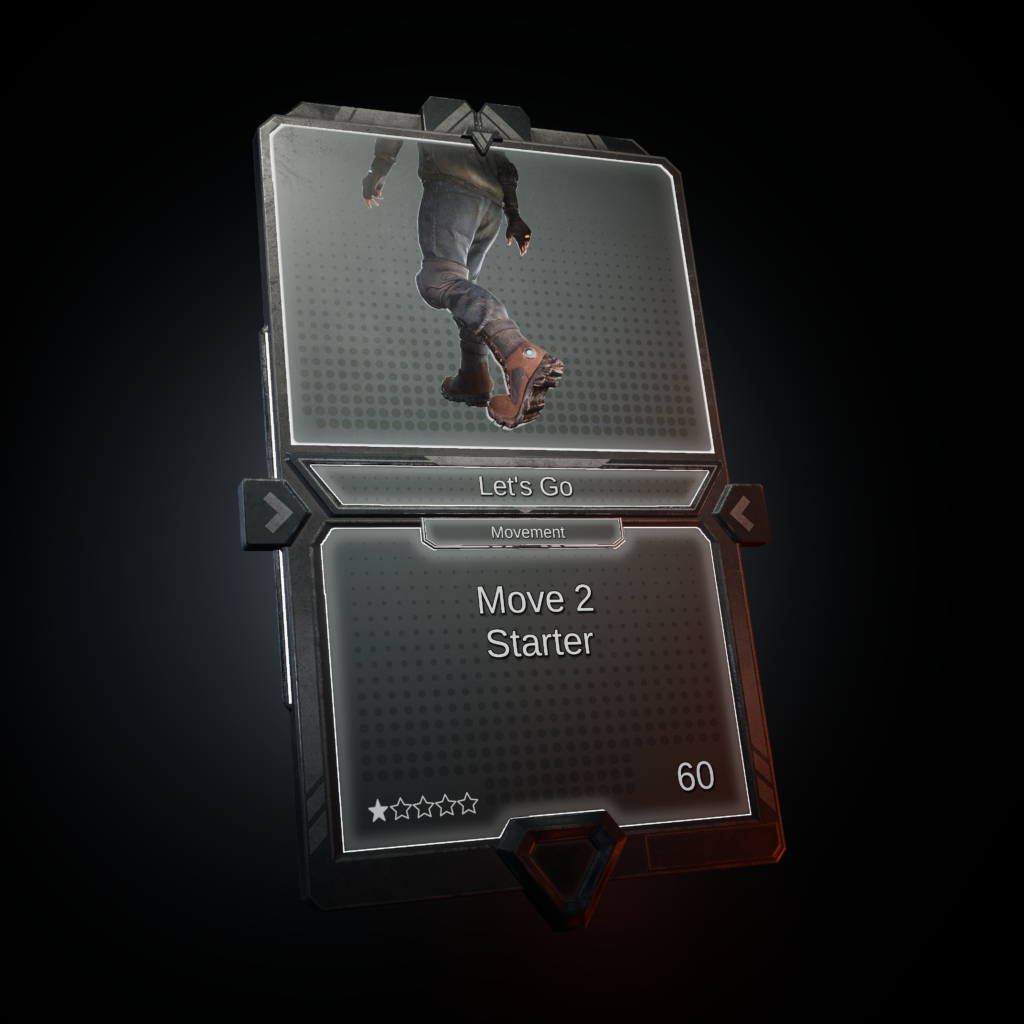 Taking a closer look at the card, it has the following texts and symbols:
"Move 2" explains itself. You get to move 2 hexes in any direction.
"Starter". This means it is a card that you will always start with in your hand at the first turn of a new mission in Rise of Humanity.
Now let's see this one in action:
Want to find out more about Rise of Humanity? Then check out these links:
Wishlist us on Steam: Store.steampowered.com
Join our Discord: Discord.gg
Follow us on Twitter: Twitter.com
Like us on Facebook: Facebook.com
Check out our website for more information: Riseofhumanitygame.com