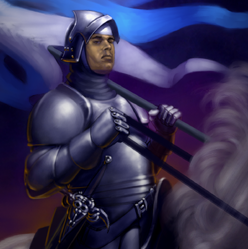 Descendants of the human tribes that migrated into Etheria from the south-east in 730, the Agarian Knights are masters of the horse, just like those who ventured forth before them. Although not the first humans to settle and construct vast castles and cities, the Knights of Agar have good relationships with their dwarven neighbours, who have helped them build civilizations. Just like other humans, knights typically have a lifespan of no more than 60 years – with only few managing to live in excess of 80. During this comparatively short time, knights can see the world with an almost childlike wonder whilst others can become masters of their crafts. Many of them make good adventurers, leaders and fighters.
Agarians differ greatly from their Lysean cousins in ideology, in religion and in battle. The five Agarian factions all hold different things sacred, from the revered Elenian oaks to the Unicorns of Barton River. Their beliefs and religious practices dominate their lives, which they owe to their gods, Sirian, Iris, Lurinth and, on occasion, Emrik and Miridine. Agarian Knights are a blessed and, more often than not, benevolent people. So long as their intent is good, the holy warriors of the Pantheon and the immortal White Council will lend their aid should it be needed. Most knights appear to be simple but actually have a strong sense of honor. They prefer to face their enemies head-on if possible and will rarely, if ever, hide without good reason. At the best of times, Agarian Knights can be brave, loyal and altruistic. At other times, however, they can still show a lust for blood and a deviousness reminiscent of their ancient bloodline. In addition, knights can be ignorant, pretentious, xenophobic or apathetic.
Their religious beliefs are not the only ideals they hold dear. The call for battle is in every Agarian's blood. Tournaments are regularly held, especially in Bartonia, and knighthood is revered. Their nature has occasionally led them to war against their neighbours, but against a common enemy they will unite and form a holy crusade that carves a path through Etheria.