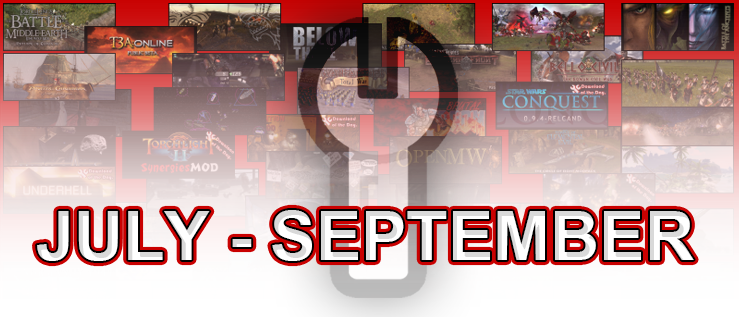 Year in Review 2013 Quarter 03
Every year we showcase hundreds of new and old mods, being updated and polished in these monthly reviews we highlight some of the big hitters of the year along with all those mods featured in the headlines.

The Great War is a total conversion modification that brings the history, combat, emotions and overall feeling of World War One to Napoleon: Total War. We aim to completely convert NTW into a WW1 Total War game.

Eastern Front is a free mod for Company of Heroes. Following the ethos of mimicking a Relic Entertainment expansion pack, Eastern Front has succeeded in adding two full new factions, the Soviet Red Army and the German Ostheer, packed with unique and exciting units to the existing armies - a feat never before achieved in the Company of Heroes world.
Whilst not a mod in itself OpenRA, is a heavily moddable Open-Source reimplementation of Westwood's Command & Conquer: Red Alert game engine, updated to use the hardware acceleration of modern video cards using OpenGL and OpenAL for sound playback. It runs natively on Windows, Linux and Mac OS X. The game was designed with modifiability in mind, but is not identical to the original.
Within the darkness between the stars a rift has been opened in the fabric of space and time to melt the gameplay of space-fighter-adventures from the 90s with the action of Unreal Tournament and bring them back to our galaxy. Choose from a variety of fighters and bombers, fit them out with lasers and missiles and fly attack runs on enemy convoys and gigantic warships. Defend your carrier against torpedoes and bombers. Attack turrets and subsystems to weaken enemy warships before your bombers begin their final torpedo-run. Now get your gear and report to the hangar deck, pilot! Your mission awaits you…
Other Featured Releases in Q3:


Fistful of Frags 3.9 has been released.

Brutal Doom version 19 announced

GTA SA - HRT Pack 1.3 Released

Lone Wolf Mod Return of Shadow Beta 0.1 Released

Pirates's Revenge Released

v0.26.0 Released

Warcraft IV - The Black Citadel

Persistent World
AIX2 Expansion MiniMOD

Battle of The Ancients 1.5 (Build 10.5)

BrewLAN 0.4.3

Carmageddon 3.0.1.1

Morrowind Rebirth 2.41!

Far Cry Remake

SabiCube 1.0 Released

Macross Wars

Normandy '44: European Theater Released

Master Sword SEP2013a Patch

S-Rank Unleashed

foxMod v0.7 for Unreal Tournament III
SynergiesMOD V211

Full Invasion 2

A Clash of Kings Beta 1.0 Released

Underhell

CSLA Mod for Arma 2:CO

OpenRA Release 20130915

The Circle of Eight

Double Action: Boogaloo

Star Wars Conquest

T3A:Online Is Released!

Bello Civili released!

SMAR•CADE Released

Half-Life 2: Wars Beta 2.2 Released

call of Pripyat Variation Mod
Version 1.41

Dark Angels Mod

Warhammer: Total War

Starship Aces

PotC: New Horizons - Build 14 Beta 3 Released!

Below the Ice
Chaos Daemons