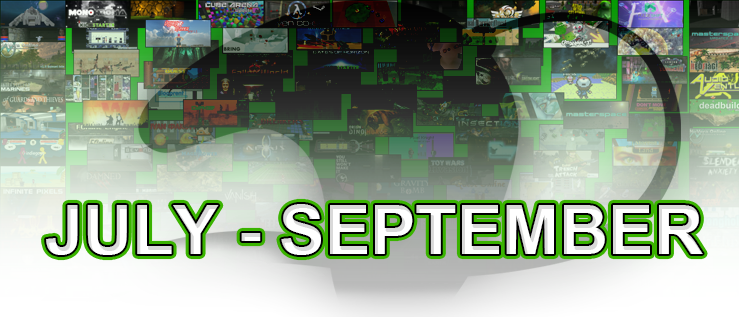 Year in Review 2013 Quarter 03
What a massive line up we have for you in these Quarterly reviews.
Developers have doubled the amount of games listed on indieDB since last years awards.
So please bare with these larger Quarterly reviews as we try to cover all the 2013 headlines.
Join us in celebrating the games of 2013, its a big list that only gets bigger so lets crack on.
Cubic Climber is a simple game based on player`s reflexes and ability to move fingers on keyboard without releasing specified keys too soon or pressing the wrong ones. You play as a climber who is trying to climb a mountain using various holds. More...
Ludus silva is a sandbox/strategy game native to the South-eastern region of Australia, eventually with a worldwide distribution. Plants are player-designed using a wide variety of options, from structural and functional parts, to colours and textures. Players may design to purely aesthetic standards if they wish, but best results are achieved by designing to suit environmental conditions. More...

VANISH is a First Person Adventure/Survival Indie Horror game created by 3DrunkMen in the free version of Unity, Unity3D Indie. Thrown into a labyrinth for reasons unknown, make your way through in search for an escape.
Step into the driving seat of a highly customisable and heavily armed flying taxi in the amoral cyberpunk future of 'Collateral'. Explore visually loaded environments, undertake a variety of challenging missions, align with nefarious factions, and gain access to a multitude of weapons and upgrades. Every job brings you one step closer to escaping a depraved, maniacal metropolis in this fast paced and brutal ride you won't forget in a hurry.
Other Featured Releases in Q3:

No Bugs Allowed

Postmortem Released

Is This The Life?

UnReal World

atWar

NEO Scavenger

"Wandering Monster"

Interstellaria

CLR: Cannons Lasers Rockets Demo

Infinite Pixels

Morbid Land V1.2

Stickmen: Element Masters

Patterns .04a

Ground Breakers's Alpha

Pulse Shift Chamber 5

Rktcr Demo3, and Release News

Blooprent

Cubicity - Greenlight

Cypher Beta 3.1
Unvanquishe

And Then There Was One

Beyond Perception

Heroes of a Broken Land is Beta!

StartBolita

Steam Marines

0 A.D. New Release

Slender: Anxiety

Tennis Elbow v1.0b released !

Enola Alpha 0.9

Solitary

Cube Arena New graphic engine.

Masterspace Update 2.2

StarLust Alpha 0.1.4a

Attack of the Gelatinous Blob

Legend of dungeon is released

BETA 1.5 released! Character and more!

Infinite Pixels / Linux version released.

Once upon an Apocalypse Released

Overgrowth a201

Stronghold2D Multiplayer Demo

NeXus B

eta Release

Don't Move Released!

Goblin Problem

Dreaming Sarah
Monocle Alpha 0.6 Released!

Interstellaria Update

ScrumbleShip

KarBOOM Demo Release

SkyNations Update 0.131

Training for Aliens: UFO

NuVera Online

Spud's Quest Demo Release

Final Warrior Quest Demo

Kaiser Earth 1.1

Audio Venture Starpocalypse Demo

Worldcrafter version 0.29

v0.1.8.224