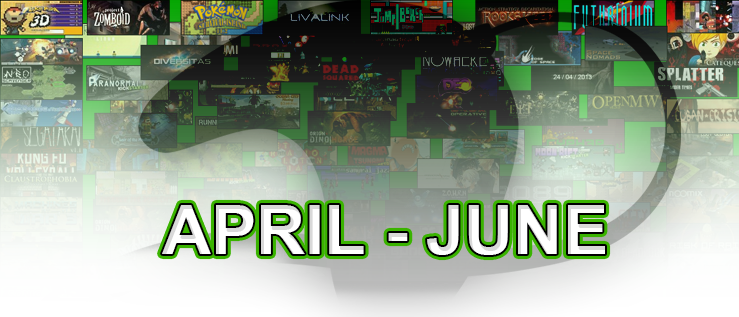 Year in Review 2013 Quarter 02
What a massive line up we have for you in these Quarterly reviews.
Developers have doubled the amount of games listed on indieDB since last years awards.
So please bare with these larger Quarterly reviews as we try to cover all the 2013 headlines.
Join us in celebrating the games of 2013, its a big list that only gets bigger so lets crack on.
0 A.D. is a free, open-source, cross-platform real-time strategy (RTS) game of ancient warfare. It's a historically-based war/economy game that allows players to relive or rewrite the history of twelve ancient civilizations, from Iberia to Mauryan India, each depicted at their peak of economic growth and military prowess. Developed using Pyrogenesis, a ground-breaking new game engine custom-built to suit this project, 0 A.D. will give players a rich and entertaining real-time gaming experience.
Lemma is an immersive first-person parkour game. Every parkour move has the potential to modify the environment. Surfaces pop in and out of existence at will!
Survive, Fight, Explore, Terraform, Dig, and Build. In Edge Of Space you change the world to serve your needs in this unique mix of survival, defense, exploration, base building, Reactive world, dynamic sandbox. At the Edge of Space, you will need all your wits about you.
Rooks Keep is a PC based, fantasy melee deathmatch/arena game. Best described as "UT with swords", players will battle it out in a selection of game-modes, across a variery of maps.
A dungeon crawler. About 3 friends and their quest for an unknown treasure. Developed by ManyHat for 1-2 players. Requirements: You will need a DX11 supported graphics card to play!
Other Featured Releases in Q2: