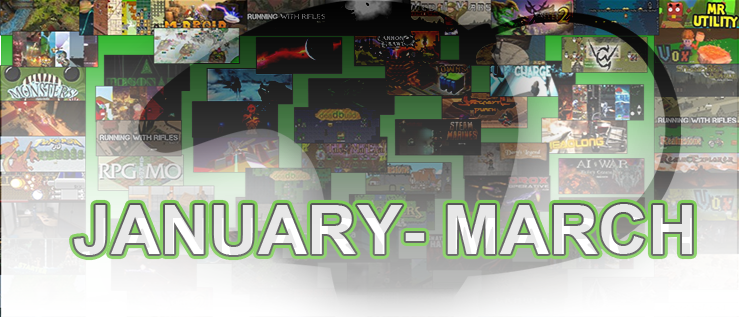 Year in Review 2013 Quarter 01
What a massive line up we have for you in these Quarterly reviews.
Developers have doubled the amount of games listed on indieDB since last years awards.
So please bare with these larger Quarterly reviews as we try to cover all the 2013 headlines.
Join us in celebrating the games of 2013, its a big list that only gets bigger so lets crack on.
Realmstone is a fantasy multiplayer hack and slash game with some kingdom building elements. You take control of a merchant house and employ various level able champions to go out into the world an bring back treasures to your house. We draw strongly on traditional fantasy settings games such as Master of Magic and Moonstone.
Exiled. Abandoned to fate in some God-forsaken land. The path you walk is a razors edge, where death awaits your first misstep. Enemies claw at you, gnashing their teeth or calling forth dark, demonic magics; at least one thing is certain: you will not go quietly, you will not die alone.
Pick up your rifle and join the Green or Grey army in their mission to send the enemy home in a box! RUNNING WITH RIFLES is an open world, top-down, tactical shooter for single player and multiplayer online, that puts you right in the middle of chaos in towns, trenches and forests turned into ruthless battlefields, controlling just one soldier in an army of several hundreds.
Cannon Brawl is a 2D action strategy game with destructible terrain. It's an exciting blend of artillery with real time strategy. Fight your way through the 20ish mission campaign (maybe more!) and then head off into online multiplayer to prove your skill!
Stackout is an arcade game that lets you use your tiny pad to destroy all piled bricks with nothing more but a ball and your brainy tactics. Be prepared for 20 levels of fun. Oh, and it's retro, too :)
Other Featured Releases in Q1: