Put A Sock In It! is the first release from Far-off Daydream Games. It is an outrageously silly choose-your-own-adventure game that features about 90 Endings and 30 Life Lessons you will help the characters learn.
What would you do if you were trapped someplace all alone? Put A Sock In It! dares ask the question: How far would you go in the name of entertaining yourself?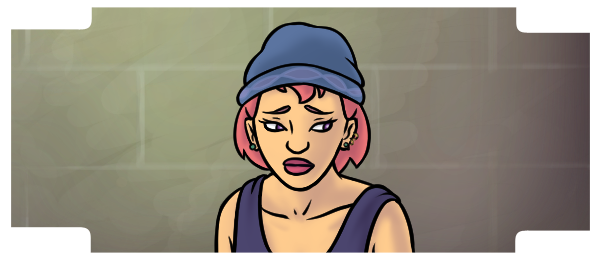 Serena

"This isn't even the worst place I've been locked in.
* sigh * We don't think about that, Serena."
With all her coworkers gone for the weekend, no way of contacting the outside world, and no hint of rescue in sight, Serena will discover that maybe, just maybe, her best friend is actually herself. And these puppets she just made from her socks...

Having locked herself in a stairwell, Serena is quickly beginning to run out of distractions. Thankfully, she has two colorful socks and a penchant for amusing herself. To pass the time she will weave short, humorous skits between characters of your choice in this choose-your-own-adventure, with storylines ranging from romantic melodrama between princess and stable boy to violent quarrels with an evil wizard or spooky ghost.