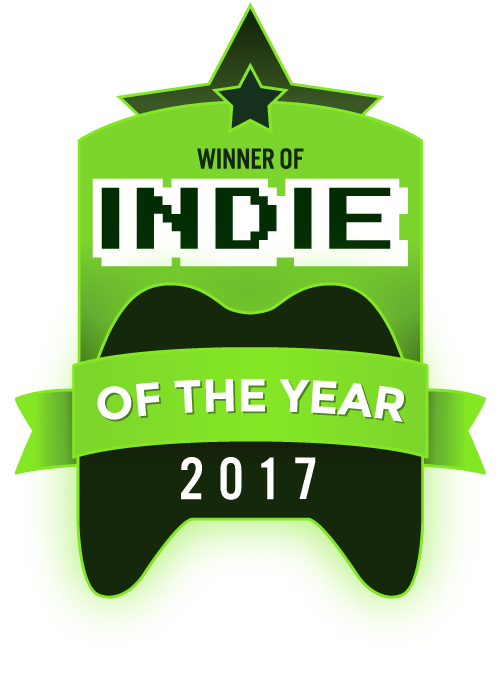 BEST RELEASED
Welcome to the 2017 Indie of the Year results! After 10 days of top 100 voting, the results have been tallied and it's now time to announce this year's winners. Below, you will find the Top 10 Indie Games of 2017.
Additionally, you can check out the Top 10 Mods of 2017, or register with IndieDB to add your indie game to the site and be eligible for participation and voting in the Indie of the Year awards for 2018.
Honourable Mentions
It's been an incredible year for indie gaming, and while the Top 10 winners are locked in, we want to take a moment to bring your attention and recognition to some games which just missed out. A honorable mention is given for polling strongly in the awards, but being ineligible due to placing higher in a previous year, or if a significant update was not released in 2017:
---
---

Book of Demons is an upcoming, deck-building hack and slash adventure, where it's the player who decides the length of quests. The game is the first installment of Return 2 Games - a series of original mid-core titles, inspired by the early golden days of PC gaming. Book of Demons is indeed a dark fantasy hack & slash, but unlike other action role-playing games, it's set in the pop-up book world of Paperverse. The paper-cut universe is one of the hallmarks of Return 2 Games - a series of mid-core games, inspired by the early golden days of PC gaming. Book of Demons is the first installment of the Return 2 Games series.
---

Syrian Warfare is a real time strategy with a high degree of realism. This game is not about a base construction or units production. The player will have to determine their forces characteristics before they go into action. And during the mission, they would be able to select reinforcements in order to support the troopers. Syria is all over the news, and it's become a subject of many documentaries. We, however, want to show the story through the lens of the game and don't let the word "game" mislead you. This game does not claim to be a history lesson, but it shows the course of the war in all its seriousness through the major milestones, from the first days till the latest important victories over terror.
---

What would you do if your fears were hacked? >observer_ is a cyberpunk horror game from Bloober Team, the creators of Layers of Fear. Discover a dark cyberpunk world beset by plagues, war and squalor. Play as the new front line of neural police as you hack into the jagged minds of the insane. You are Dan Lazarski, an elite neural detective known as an Observer, and part of a corporate-funded police unit whose purpose is to hack and invade suspects' minds. In this future, anything you think, feel, or remember can be used against you in a court of law.
---

Hello Neighbor is a stealth horror game about sneaking into your neighbor's house to figure out what horrible secrets he's hiding in the basement. You play against an advanced AI that learns from your every move. Really enjoying climbing through that backyard window? Expect a bear trap there. Sneaking through the front door? There'll be cameras there soon. Trying to escape? The Neighbor will find a shortcut and catch you.
---

Remothered: Tormented Fathers is the pure and realistic survival horror game. The story is rich of unpredictable plot-twists, but it is touching at the same time. Psychology plays a huge role within the game: heroes and enemies are atypical and the line between good and evil is blurred. The development of the game is similar to that of a film narration, where the player perfectly identifies himself with the character. The soundtrack, composed by Nobuko Toda (Final Fantasy, Halo, Metal Gear Solid) and Luca Balboni, enhances the terrifying atmosphere of the game.
---

Holdfast: Nations At War is an online multiplayer first and third person shooter focusing on a combination of teamwork and individual skill. Take part in historic clashes on land and at sea waged by the most powerful nations during the great Napoleonic Era. Charge into battle with over 150 players per server! There will be plenty of chances for you and your mates to take on other groups in tournaments and fierce competitive events. Hone your skills because you can be sure that your opponents will too!
---
4TH PLACE

Hollow Knight is a classically styled 2D action adventure across a vast interconnected world. Explore twisting caverns, ancient cities and deadly wastes; battle tainted creatures and befriend bizarre bugs; and solve ancient mysteries at the kingdom's heart. The world of Hollow Knight is brought to life in vivid, moody detail, its caverns alive with bizarre and terrifying creatures, each animated by hand in a traditional 2D style. Every new area you'll discover is beautifully unique and strange, teeming with new creatures and characters. Take in the sights and uncover new wonders hidden off of the beaten path.
---
3RD PLACE

Experience intense close-quarters battles in iconic WWII settings. Day of Infamy is a teamwork-oriented shooter which aims to be a continuation and evolution of the original Day of Defeat mod released in 2001 - brought to you by the creators of Insurgency. Intense core infantry mechanics and a simplified HUD create a highly visceral and immersive experience. With a reinforcement wave system tied to objectives, the game maintains an emphasis on teamwork and coordination.
---
2ND PLACE

Cuphead is a classic run and gun action game heavily focused on boss battles. Inspired by cartoons of the 1930s, the visuals and audio are painstakingly created with the same techniques of the era, i.e. traditional hand drawn cel animation, watercolor backgrounds, and original jazz recordings. Play as Cuphead or Mugman (in single player or local co-op) as you traverse strange worlds, acquire new weapons, learn powerful super moves, and discover hidden secrets while you try to pay your debt back to the devil!
---
1ST PLACE

Foxhole is a massively multiplayer game where you will work with hundreds of players to shape the outcome of a persistent online war. Players ARE the content in this sandbox war game. Every individual soldier is a player that contributes to the war effort through logistics, base building, reconnaissance, combat, and more.
---
A huge congratulations are in order to all the indie developers, and community voters, for participating in the 2017 Indie of the Year awards! IndieDB would like to wish you all the best for your continued indie development efforts through to 2018, and we hope to see you again for next year's awards!