Small update with new 24 hour Day/Night time system plus other additions.
Update #015
Version: V0.988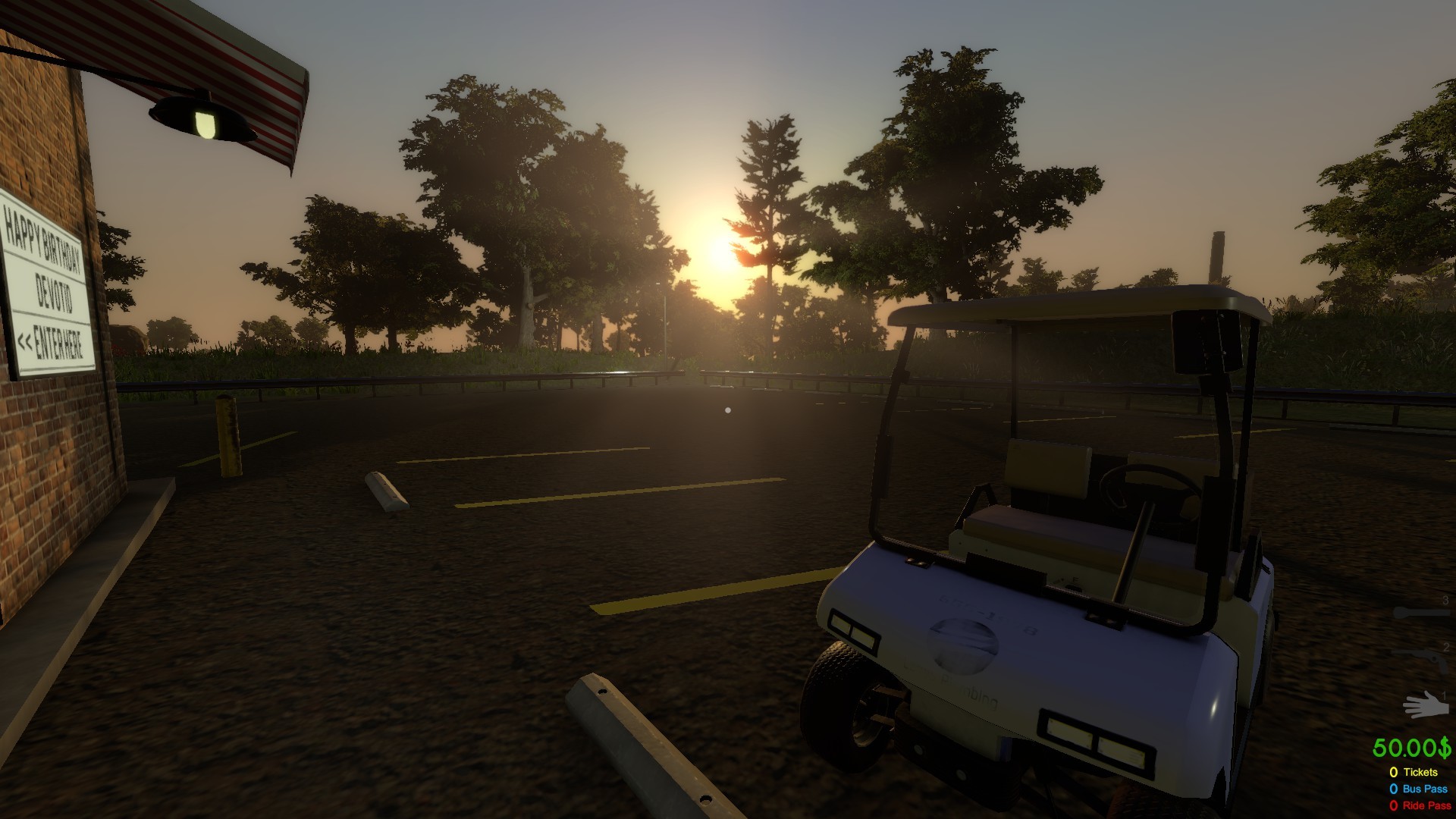 Over the last month I had to update the whole project to a new version of Unity and it was a nightmare. Approx 4 weeks of my life that are gone to loading screens and little spinning wheels. haha I had to update through 7 or 8 versions of Unity as it has been so many years since I started this project. Every version of Unity had a few things that were deprecated (dropped or changed) and I had to do weeks of work just to get the game to the current state that it was already in. It had to be done though.

Now the project is ready for the long haul and it feels great. :) It even gave me some time to optimize some stuff and redo code that I have wanted to update for a while. I lost at least a month of dev time but in the end I really believe it was worth it. So let me get to the meat and potatoes...

This update brings a new 24 hour day to night Time of Day system. You can let time progress automatically or you can open your watch and opt to adjust the time of day manually to any hour you desire. This new Time of day system also brings a few other small graphical additions with volumetric lighting from the main sunlight/moonlight source and light rays for those extra purdy sunrises and sunsets. The weather as of now, is random between clear sky, cloudy sky and foggy sky. Each one giving its own level of ambient light. The weather will update every 6 "hours" of game time. So make sure to launch those fireworks on a clear night to get your moneys worth. ;) I am still adjusting the total time of one whole "game day" as I am still finishing the survivor mode. The "auto game speed" will change in the future and is just a baseline for now.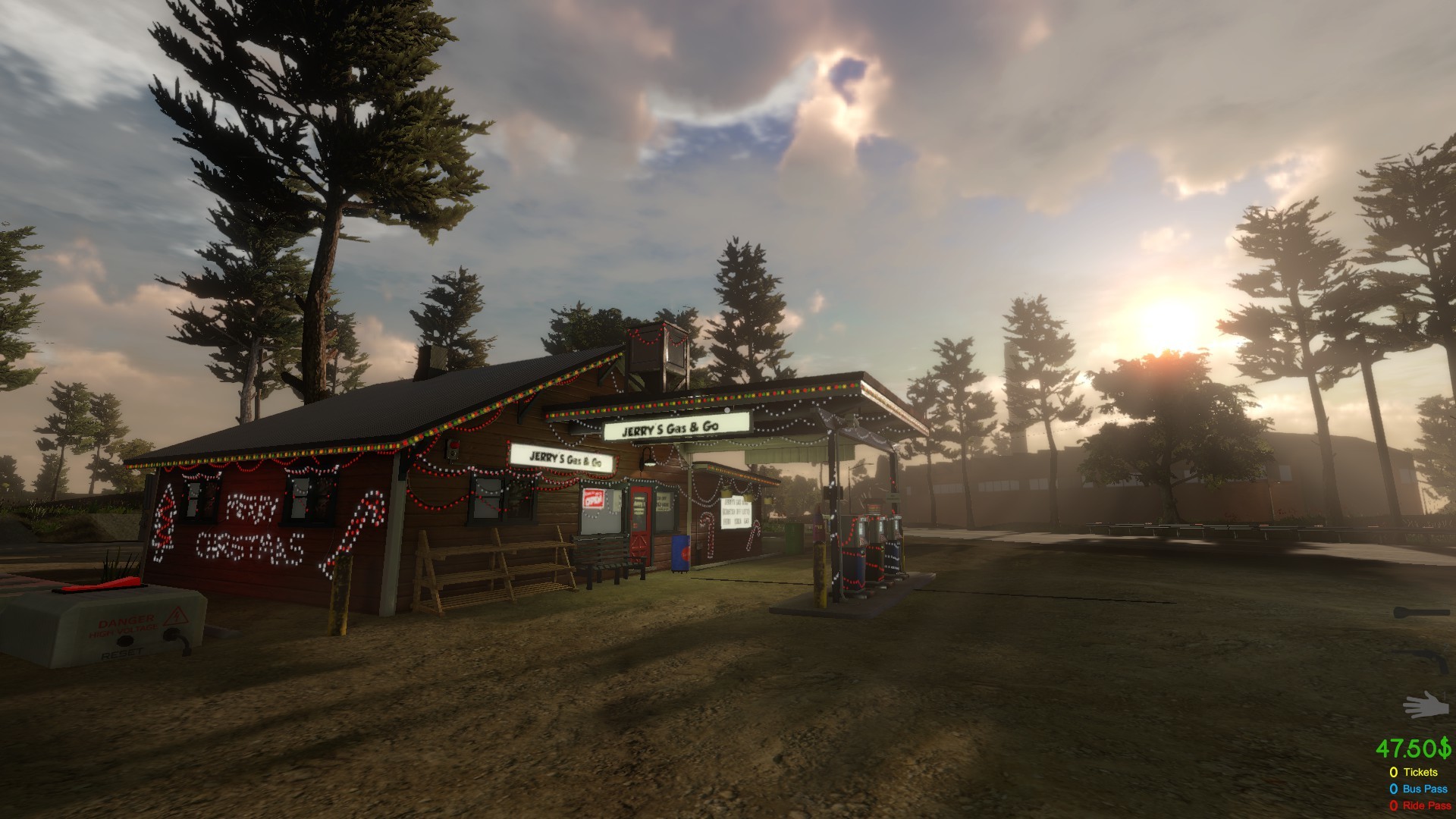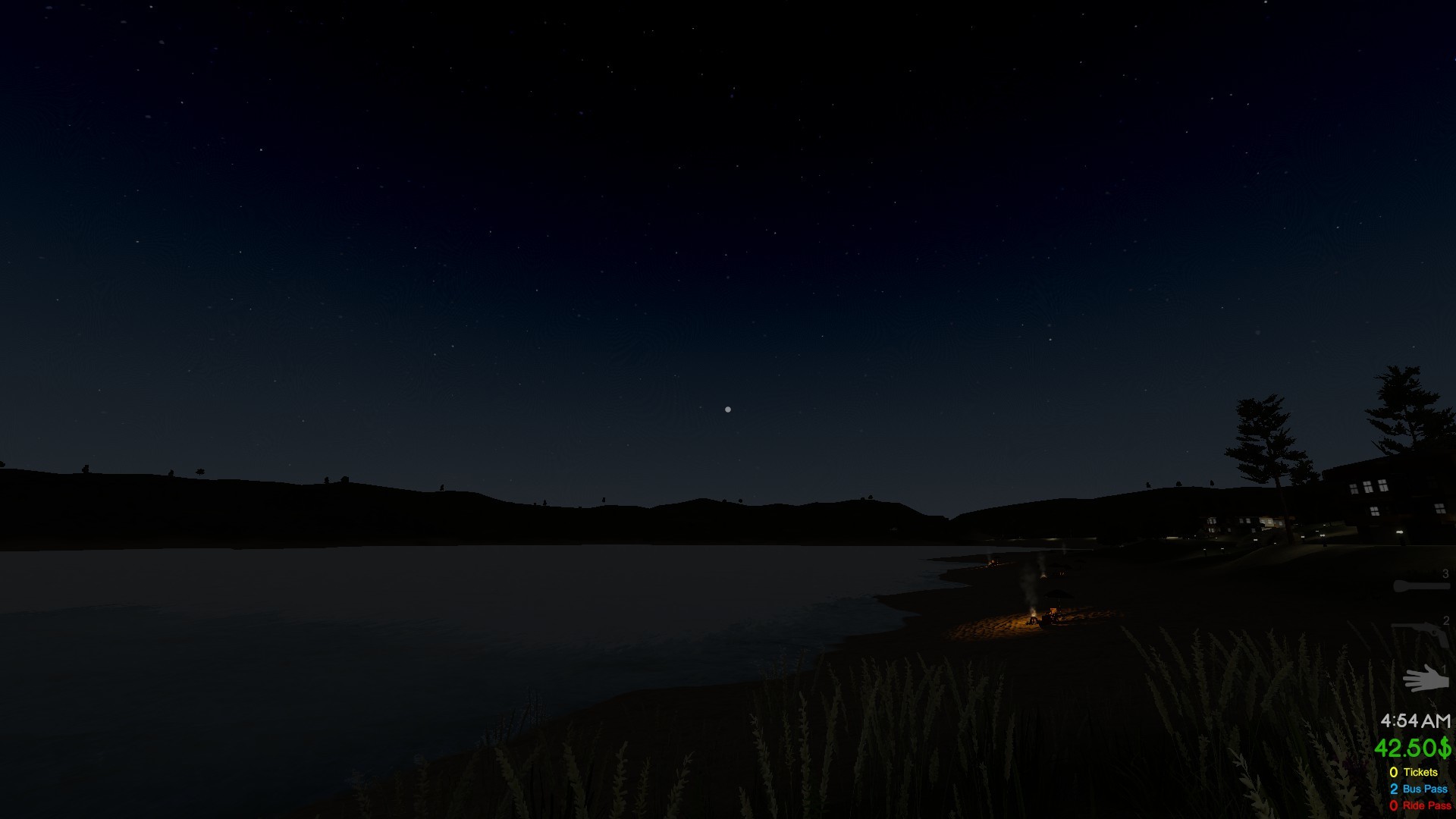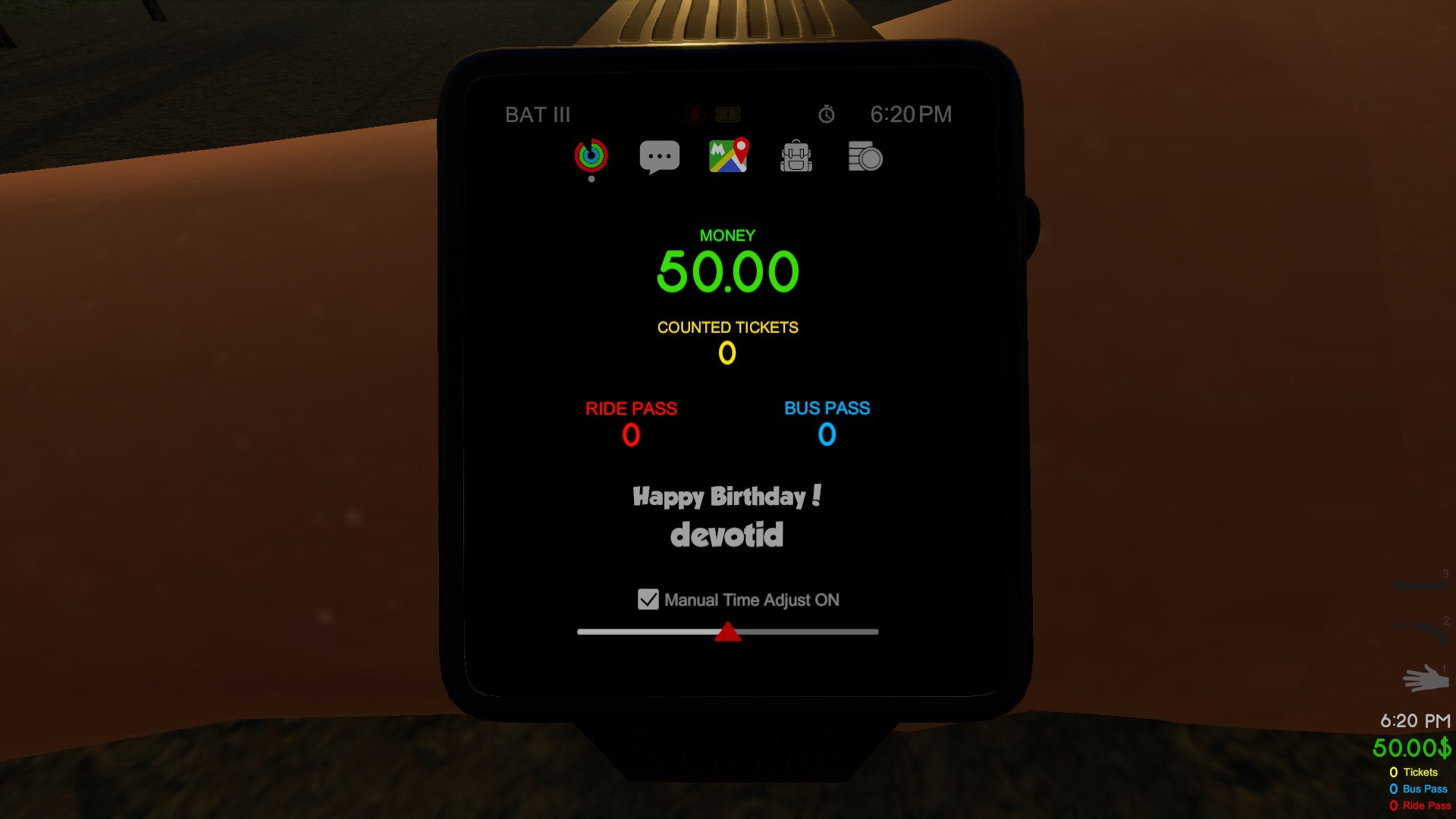 Please forgive the Shadow flickering on the ground and on the water for now as I am still building and tweaking the new systems. I think the new lighting system looks better and will give players the choice of how they want to enjoy the game. You can only adjust the "Time of Day" in manual time mode. See your wristwatch (TAB). In the far left menu...All the way at the bottom there is a toggle and a slider where you can turn on Manual Time and adjust it. In Birthday mode the time of day will always be in the lower Right screen corner next to the onscreen player stats. It is also on the top of your smartwatch.

You will also see a new Strip Mall location across from Barrys on the way to the Beach. They are NOT open for business yet. When the strip mall does open it will include a Dollar Store, Credit Union XP Bank and a Clothing Boutique. For now... I just put the buildings in the game so I can adjust and build their lighting. They will be open when Survivor mode is done. More details later on that as I am still deciding on some stuff. Im very picky. haha.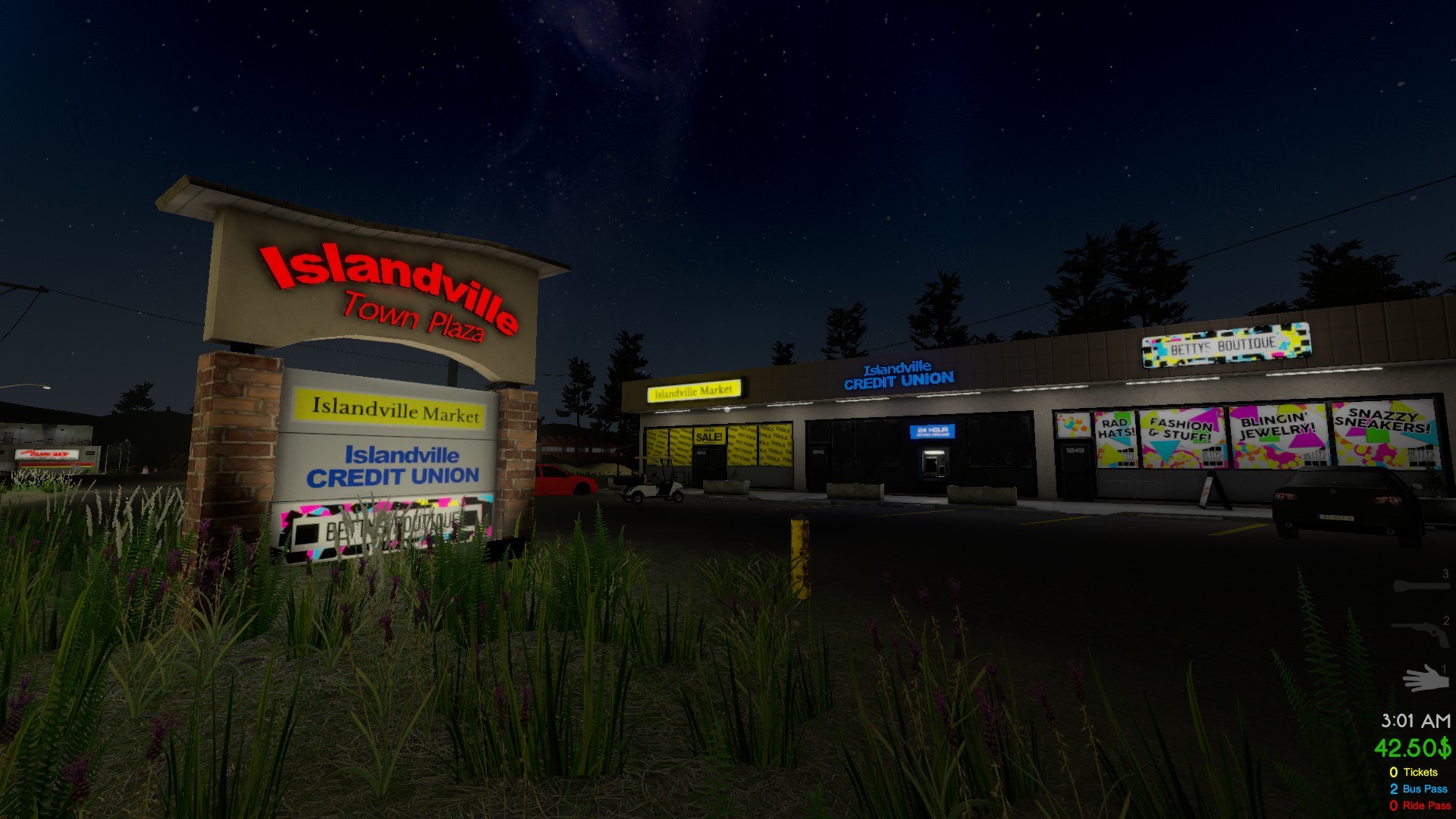 Survivor Mode is almost ready for Beta Testing. I had to finish this 24 hour day/night cycle update first with all the new timing systems in place before I went any further. Updating the whole project has set me back some. Not too much though as the framework for Survivor Mode is done and working but I lost a lot of 3D Modeling time when I had to update the project. I want to finish a couple more 3D models for the new jobs and also have one more surprise that I want to add in with Gary that I think people will love.

That's about it for this dev blog and you can find all the details of this update below. Now I have a couple of tough weeks ahead finishing the Survivor Mode for all of you. Wish me luck and please let me know what you think of the new lighting.


UPDATE DETAILS:

Game Time_ alpha version of the new 24 Hour Day Night Cycle with streetlights, building lights and Vehicle headlights turning on and off around town.
Game Time_ Saves the time of day when you save a Birthday Mode game so you can return back to the same place and time of day. The weather (Cloudy or Clear) will be random upon each game load for now. I am still finishing other rainy days and other weather scenarios.

Game Save: Now saves all piles of used lotto's and cans properly. Before they would get deleted. Dont forget that anything that you can put in your inventory can be sold at Barry's for cash. So no need to throw them in a trash can when you can play more tickets with the loot!

GolfCart: Faster and a little smoother exit from the golf cart.
GolfCart: Removed the "Lean Forward" feature in the golf cart and replaced it with a transparent GPS full screen overlay. Just press TAB or the Map button on controller and hit it again to turn it off. Makes navigating in the cart a little easier. Leaning forward was messing up the cart physics and had to be rebuilt when I updated to the new version of Unity.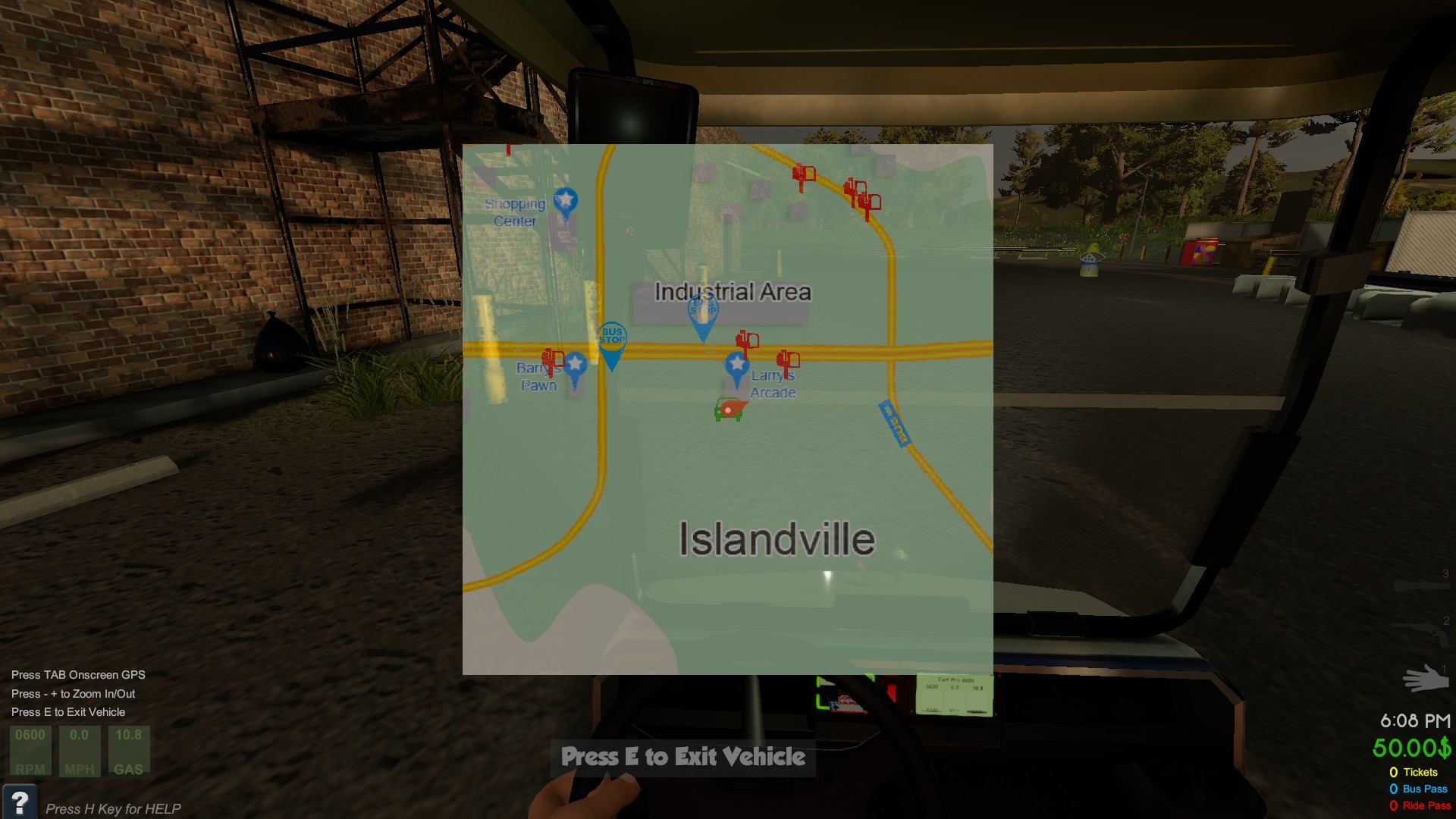 Wristwatch: Added camera mini map move buttons for the watch. Top right corner of the mini map on the wrist watch. (Press Tab or stats button for wristwatch). This will allow the player to look around the map a bit and see whats out there.
Wristwatch:Fixed the watch not working for a few seconds after the limo drops you off. Now it will operate as soon as you get out and you cannot teleport again until the bots and limo zap away.
Wristwatch: Added a Manual time slider to the watch in Birthday Mode to control the Time of day. Just turn on the Manual time Toggle and then adjust the time Slider to the desired time. It will auto save the state of the toggle and if you saved the game it will start the next Birthday Mode game at that time. Still a work in progress.

Larrys Arcade: Installed a "curtain open" button behind the stage for all you explorers when you get trapped behind the stage. Just click it and the curtain will open now.
Larrys Arcade: Added more tickets to PrizeMaster. 100 Tickets was not enough for a $5 game. All prize rows are now 1000 tickets! Go get em!

UFO Arcade: Added the multiplay system to Popcorn Petes so you can play more than one credit at a time. I will add more machines as I get to each one.

Player: Added a little speed to the Character walk and run. Not too much though. Still testing.

Video Settings: Added an "Extra Shadows" Toggle to the Video Settings that will turn off extra shadows to get some more FPS.
Video Settings: Added a Volumetric Lighting ON/OFF toggle to turn off the extra mesh that is created on a volumteric light. Should help grab a few more FPS when turned off.

Strip Mall: Added new Islandville Market store, Islandville Credit Union Bank and Bettys Boutique to the island. THEY ARE NOT OPEN FOR BUSINESS YET and are still moving in. In the future you will be able to shop there for random stuff at the Islandville Market. You will also be able to level up with XP at the ATM XP Machines for advantages in the game and lastly (And farther in the future) you will be able to customize your characters by shopping at the boutique and purchasing some fancy clothing and accessories for yourself or your pet ex-champion award winning swan-goose. More news in the future on that...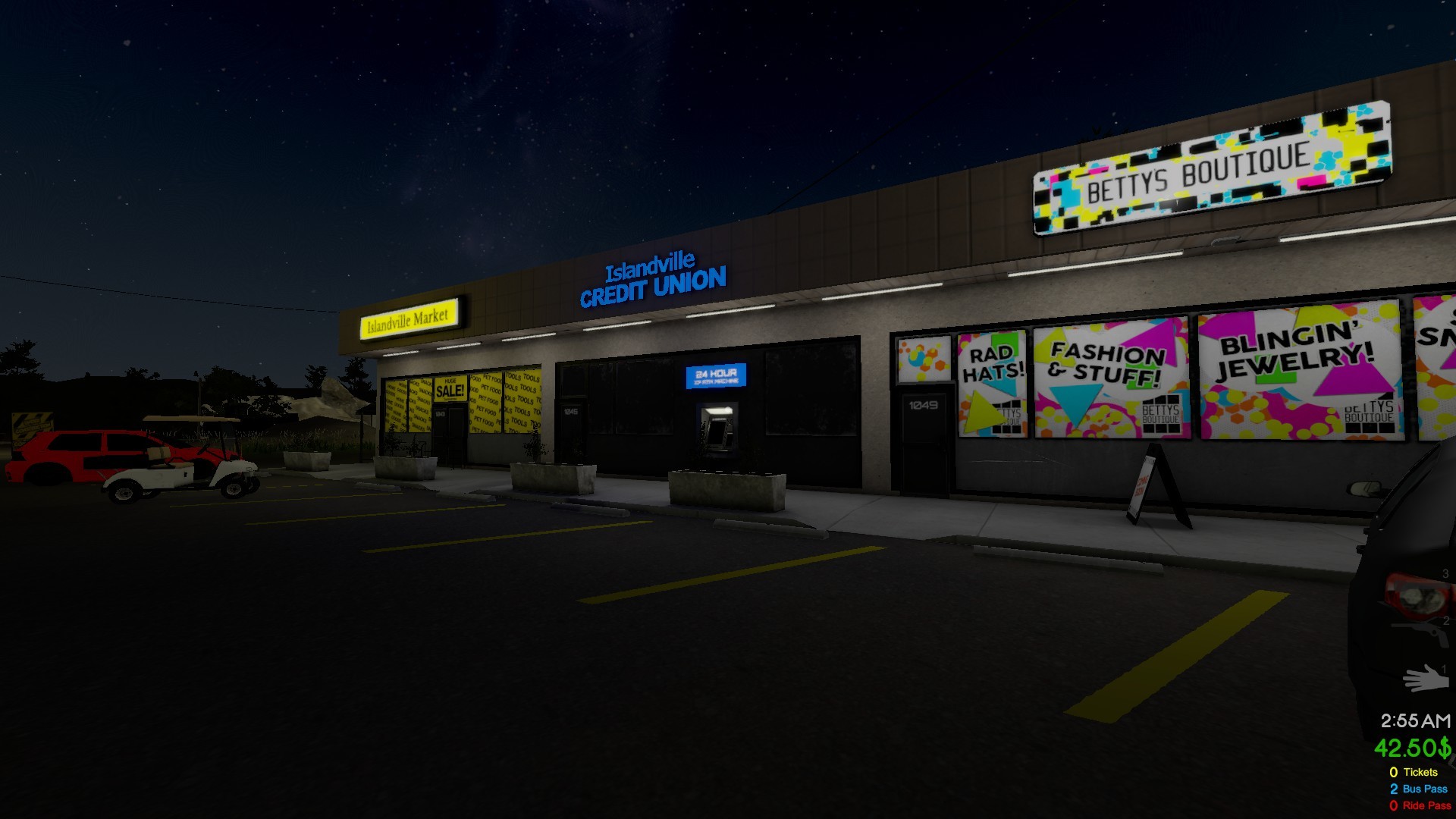 Mermaids From Space: Fixed the input. Now you can use a controller to aim the coin chute.
Iceburg Bounce: Added some extra tickets to the Iceburg bounce game when you get a bonus round. It will add 3000 points to the game which will result in about ~150 extra tickets.

Carnival: Added a money blower machine to the Carnival. No more having to go all the way back to town for more loot. Uncle Phil makes it happen.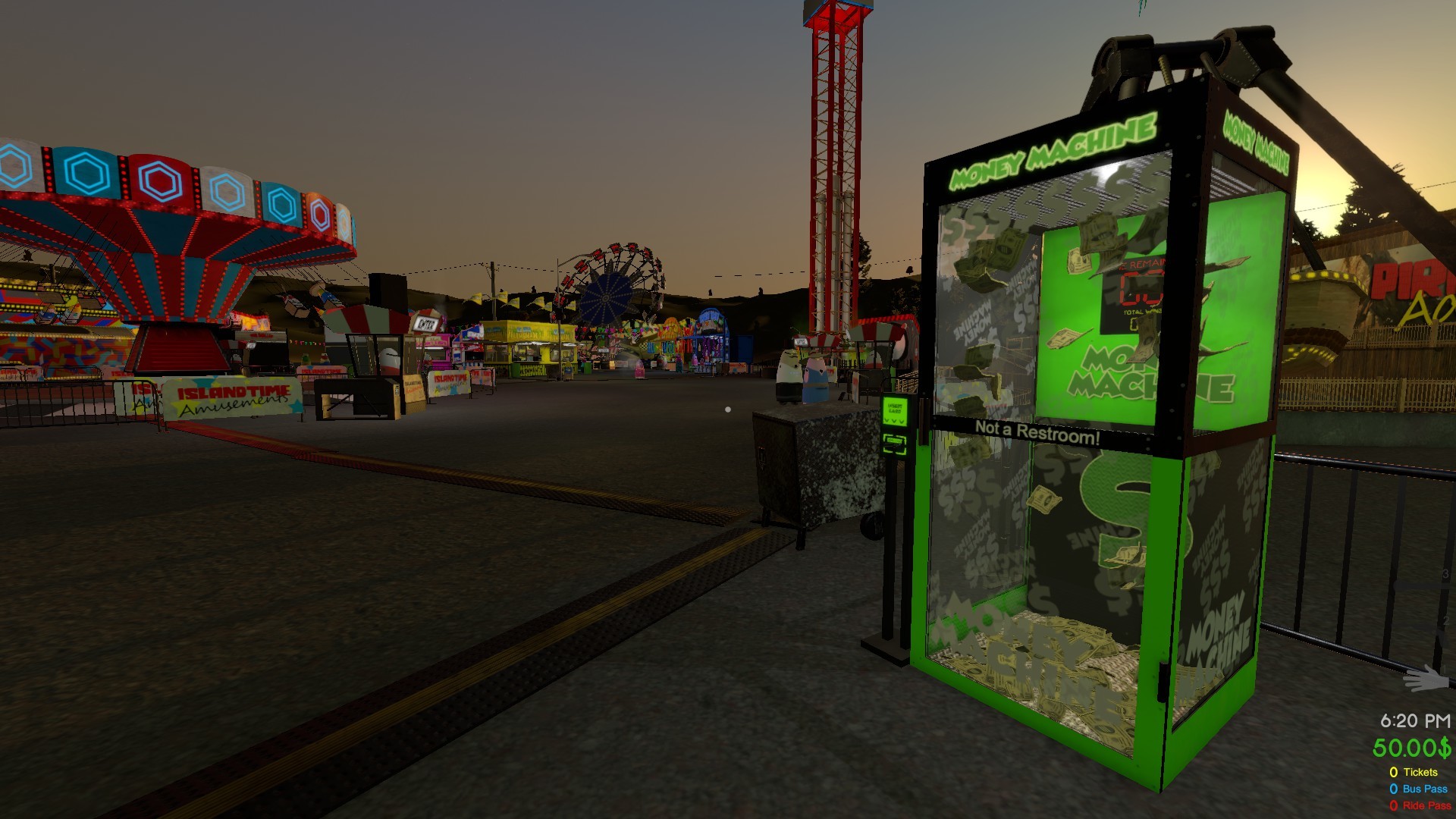 Barry's Pawn Shop: Larger bill denominations. Added a $20 bill and a $100 bill for all the big shooters out there. Barry's will pay out much quicker now on big purchases.
Barry's Pawn Shop: Added a "safety" feature that you can not leave Barry's until the cash machine is done paying out.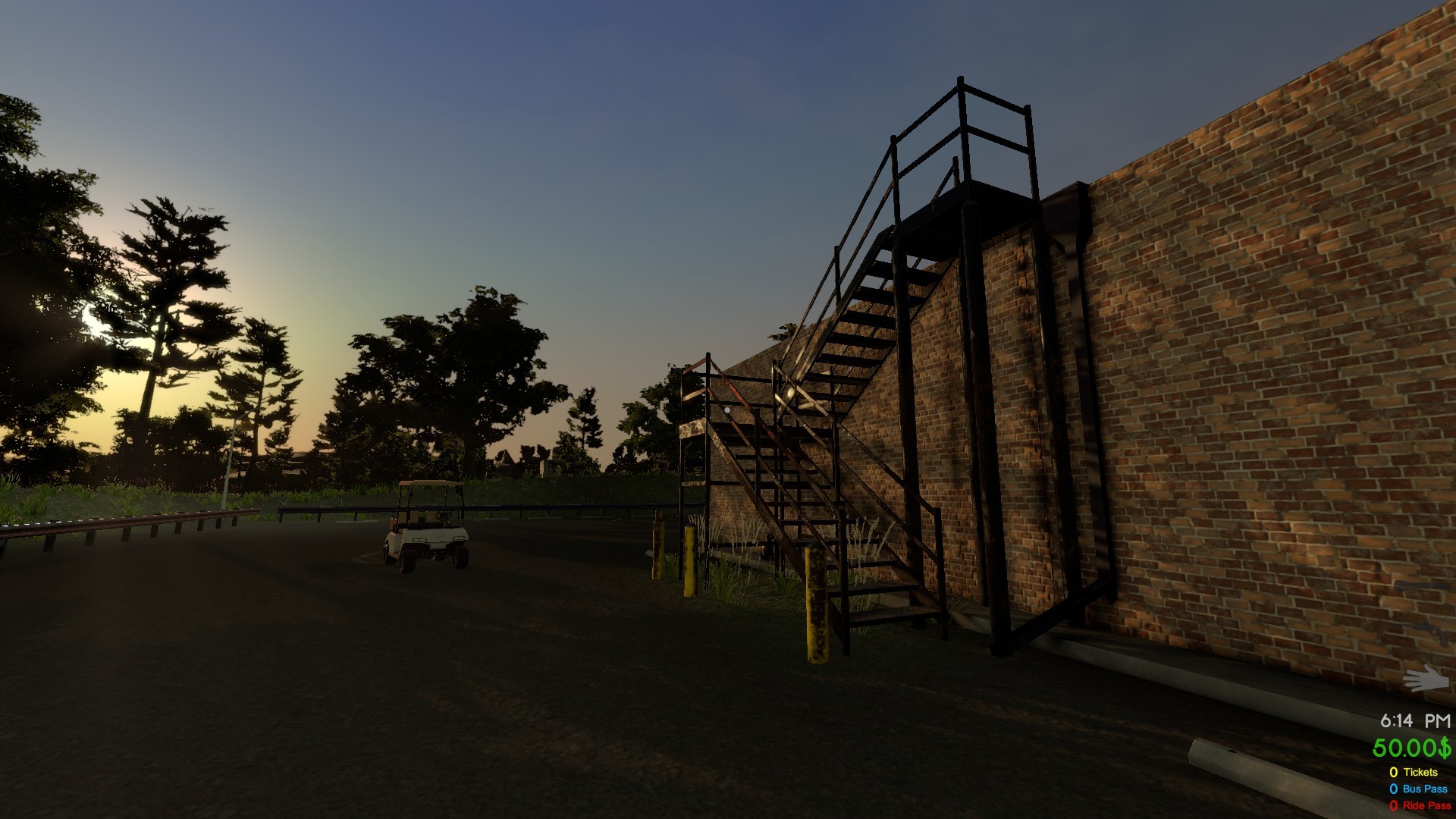 Larry's Arcade: Added a fire escape to the back that gives access to the roof hangout area. Will be used in Survivor Mode.
Strip Mall: Added a fire escape to the back that gives access to the roof hangout area. Will be used in Survivor Mode.

I prob forgot some stuff too.... If you see anything different... Its prob new. haha.

Thank you very much for all the help and support! If you are new to The Coin Game welcome and feel free to check out the store page.

Kevin