Following the announcement that Arelite Core will be exhibited in the Indie Megabooth at PAX East 2016, I decided to write up my approach to preparing for the convention. Since I've covered in detail the demo I created in the first article, this time I will talk about the other aspects of convention presentations, including contacting the press and the physical articles I prepared to promote the game.
By now, it's become well known that you can't simply market a game when you're ready to launch, it's an ongoing process for months and sometimes years leading to its release, and even beyond as developers support the game and add features. I was already writing about the game in 2014, and had a first website, which led to a first trailer in late 2014. 2015 was a continuation of the previous year's efforts, I increased my marketing efforts, went to my first convention, tried to reach further through press releases, and it also led to a second, more polished trailer and a second, more polished website. If 2014 was a year of firsts, 2015 was all about using all that I had learned, the successes and mistakes, and turning those into better results.
Which leads into the all important end of 2015 and early 2016. One of the new approaches I took was sending out press releases and contacting press directly. Thus far I did two releases, one for the new trailer and one when I released the alpha for Arelite Core. It gave me a chance to get in touch with great people from various podcasts and gaming news websites who covered my game, some of them with large audiences and some just starting out, like me. It gave me a different perspective on things, seeing a lot of people passionate about games, but a lot of them driven by journalism or podcasting or just other aspects than game creation. It gave us a chance to work together, something I really appreciated. And now that I'm going to a big event, I can contact them and see if they're interested in covering the game.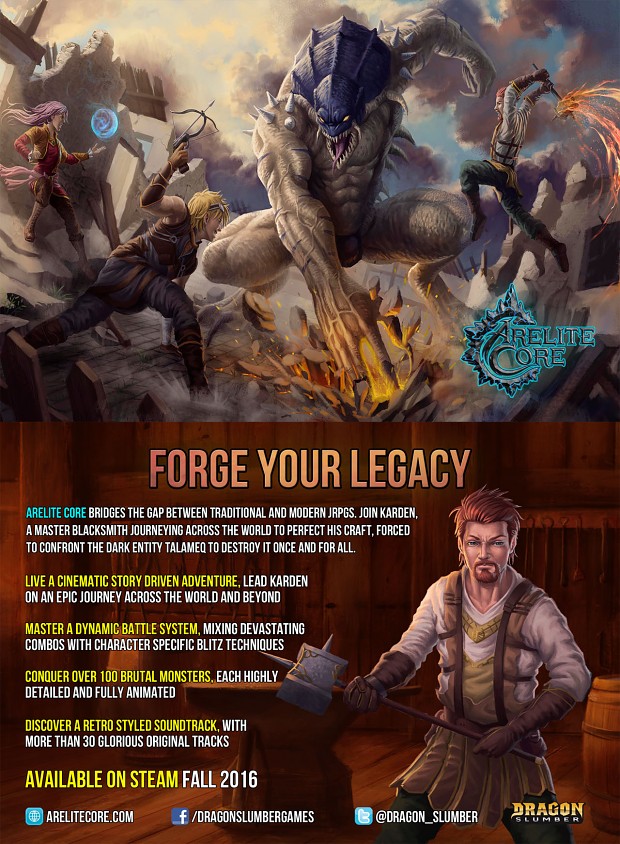 Back and front of the Arelite Core promo postcards
One can't go to a convention without promotional postcards, which is why I got these done. Last year, I had a few choice pieces of promo art produced, properly layered so I could take elements from it, which helped me make these. The front of it was taken as is, Karden and his friends fighting the party, while the backside of it reused various assets I had.
I took a lot of care when it came to composing the information within. I looked at a lot of other promo postcards I had but beyond the essentials (website, social media), there wasn't a template of requirements I could use. I tried playing around with displaying screenshots but couldn't make it work with the layout I had, so I figured that instead I would use the postcard to further sell the game through its features.
The first iteration only had the feature bullet points, but I felt it was missing a bit of context. Since Arelite Core is a story-driven experience, and that as a JRPG it will require a lot of text to be read, having a bit more text on the postcard as well felt right. It also gave me a chance to add the name of the game on the backside, which was missing in the earlier versions of the card, as well as a summary of the adventure the player is about to embark upon.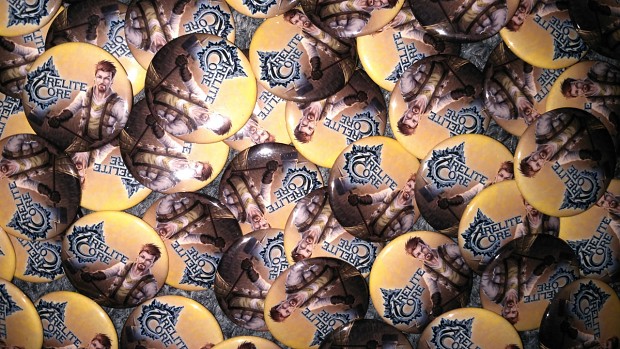 Next came the buttons I will be giving out. I wasn't sure if I would be producing at first, because anecdotal evidence seems to show that they don't make much of an impact in the marketing. Additionally, printing buttons became a pretty costly endeavor, and considering the budget the project is on, I wasn't sure if it was worth the investment. Ultimately I decided that I didn't want to go in a convention bare handed, so I split the difference, printing about half of my original number and I'll instead will be keeping an eye on how many I put out at once and who takes them.
Still, I think they came out great, and again it's all about reusing the promotional assets I had on hand. You will notice that specific image of Karden reused a lot in various marketing materials and headers, he has been tremendously profitable over the years.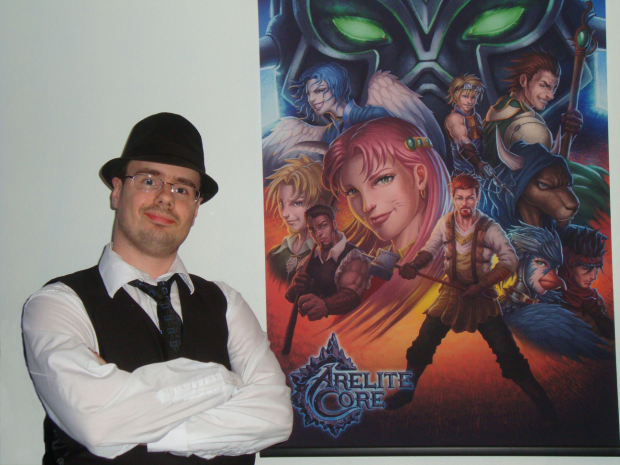 And finally, the piece the resistance, the Arelite Core wallscrolls. Because of the price, these will not be given freely, but I still wanted something special to bring along, see if I can find a taker for a memento like this. I still don't know how I will be distributing them, maybe I'll end up making a contest, or I might not even find the right opportunity to use them and might just keep them for now. But the important part, as with everything else concerning presenting the game at the convention, is to be prepared if the opportunity or inspiration strikes.
Next week, I will finally drop the post mortem of my PAX experience. As I write these lines, PAX has already gone, and I look forward to sharing what I've learned, what went right and what went wrong.


To find out more about Arelite Core, you can visit the following links:
Website: Arelitecore.com
Facebook: Facebook.com
Twitter: Twitter.com
Presskit: Presskit