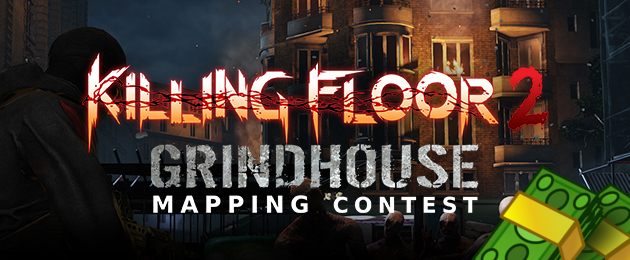 We are proud to announce the Grindhouse mapping event has returned for all you blood thirsty content creators! With over $50,000 in prize money and the possibility that your map winds up in the official Killing Floor 2 map lineup, this is not a opportunity to waste! Here's all the nitty gritty details you budding map makers need.
Phase 1 will start October 12, 2015 and ends November 30, 2015. All submissions must be in by the deadline of November 30, 2015 6pm EST.
Phase 2 will start December 7, 2015 and ends January 31, 2016. February 21, 2016. All submissions must be in by the deadline of January 31, 2016 6pm EST. February 21, 2016 6pm EST.



All maps created should be for "Survival" mode for Killing Floor 2. The judging will be heavily weighted on how well the map creator uses the KF2 tools. The Judging Criteria shown below gives a rough guideline of how Tripwire Interactive will grade maps. There are also some additional cash prizes set aside for maps that don't fit in the "standard" category - see below!

The maps will be judged in two phases based on the ranking that the community has chosen to be of the top of each category.

All maps must be comprised of only original content created by the Entrant(s), or content already contained in Killing Floor 2 and the Killing Floor 2 Editor. That means that no part of the map, including but not limited to, models, entities, audio files, textures or any other content can be taken, derived or ported from any other game or third party map. Maps must be playable on the retail version of Killing Floor 2 and be easy to install and load. Maps must be available for free download from ModDB and Workshop on or before the date of their submission to the contest and remain available for download throughout the contest period. All maps must be in compliance with and are governed by the terms of Tripwire Interactive's Killing Floor 2 End User License Agreement ("EULA") available here.

Map creators should use the link below to add their map(s) to ModDB to be eligible for voting and judging.
Rules update: You must now also upload your map to Steam Workshop aswell as ModDB to be eligible.
(Updated) Instructions for that process can be found here: Tripwireinteractive.atlassian.net Note: The Steam Upload Tool is currently being worked on and will come online AFTER the submission deadline. Tripwire Interactive will contact entrants with instructions for loading their maps to Steam Workshop when the Steam Upload Tool has been released



The judging of the submitted Maps will be done by individuals employed or selected by Tripwire Interactive. Judges will choose from the entries of each Wave and will select the top Maps to receive the awards and prizes. Key criteria for the main "Survival" map mode contest will include (but not be limited to):
Gameplay and Fun
Performance
Graphics
AI Pathing
Complexity
Technical stability
Polish
Creativity
And proper use of Killing Floor 2 features, including trader locations, specimen and item spawns. The following is a (non-exhaustive) list of examples:
Pathing is completed and the ZEDs can get to the player, without getting stuck
Zeds can spawn into the map reliably
Boss can spawn into the map reliably
Pickups are in the map and working
Trader Pods are in the map and working
Doors are in the map and working
Portal entry solution for Zeds implemented



Whats a competition without epic prizes, and we offer fame (should your map make it into the game) and fortune to the winners.
Phase1
Best Survival Map
1st Place - $5,000 USD
2nd Place - $2,500 USD
3rd Place - $1,500 USD
4th Place - $700 USD
5th Place - $300 USD
Non Survival Map Prize Pool
Phase 2
Best Survival Map
1st Place - $10,000 USD
2nd Place - $7,500 USD
3rd Place - $5,000 USD
4th Place - $1,500 USD
5th Place - $1,000 USD
Non Survival Map Prize Pool



In order to submit your Map, fill out the Entry Form on the Contest site. The submission of this form verifies that you legally represent all of the creators of the Map and that you agree to comply with all the Rules, the Killing Floor 2 EULA and all decisions of the Contest Judges. You must provide your name, address, date of birth, email address, telephone number and also provide the name, address, date of birth, email address and telephone number of the other contributors to the Map (if any), including the type of asset(s) each contributed. You must also include the URL where Judges and the public can download your map from ModDB. The download URL for the map must be directly accessible by the judges without any sort of registration or file queuing. Again, all entries must be the original creations of the Entrants. Read the full rules, terms and conditions here.
Good luck to all entrants, we eagerly await your creations.