Kill those Orcs quickly
You actually don't have to roam around the first realm a lot. Babatula is great for grinding low level items and to dive into the game mechanics. But the true challenges certainly await in the later realms. So if you start your new build, you might want to get going quickly. If you do it right, your character is ready for the next realm in no time.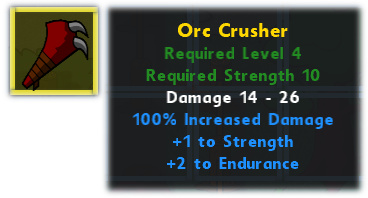 Well, there certainly are plenty of items that could help you out here and some of them might even be more effective than the Orc Crusher. But since it*s all about killing Orcs in the first realm, you'd be a fool not to use it once you've found it! Don't worry, it kills all of 'em Orcs. Be it a Youngster or the General. Happy Orc crushing!