Give me life!
There are two rare prefixes that increase your maximum Hitpoints by a given percentage, "Invigorating" and "Reinforcing. "Invigorating" does a 15-30% Hitpoints increase, and "Reinforcing" - one of the rarest affixes - goes up to 55%. This armor here was a lucky find from one of our playtesters recently. It will certainly help against heavy damage dealers, such as the Scarab Uber-Queen!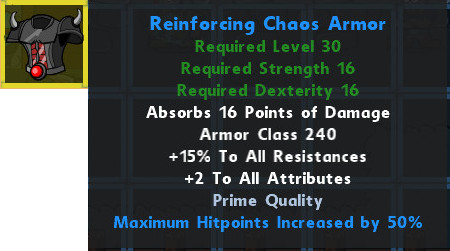 A good advice for finding superb items
Get yourself a high magic find bonus and go kill that boss you're strong enough to defeat multiple times and then, ..., well, kill that boss multiple times! Besides the big bosses, there are creatures that drop better stuff than others do, like the Jintresses and most of the mages. Besides that, treasures and challenge treasures have a high chance to drop magic items. Challenge maps are stuffed with treasures and bosses, so you definitely should try one out as soon as you can! Too bad you don't get experience in those maps, though...