Mine Tycoons HUD (Heads Up Display) is based around a very easy to use design that lets players be just one click away from any information they need. Below is the breakdown for the icons.
Direct Link to Larger Image: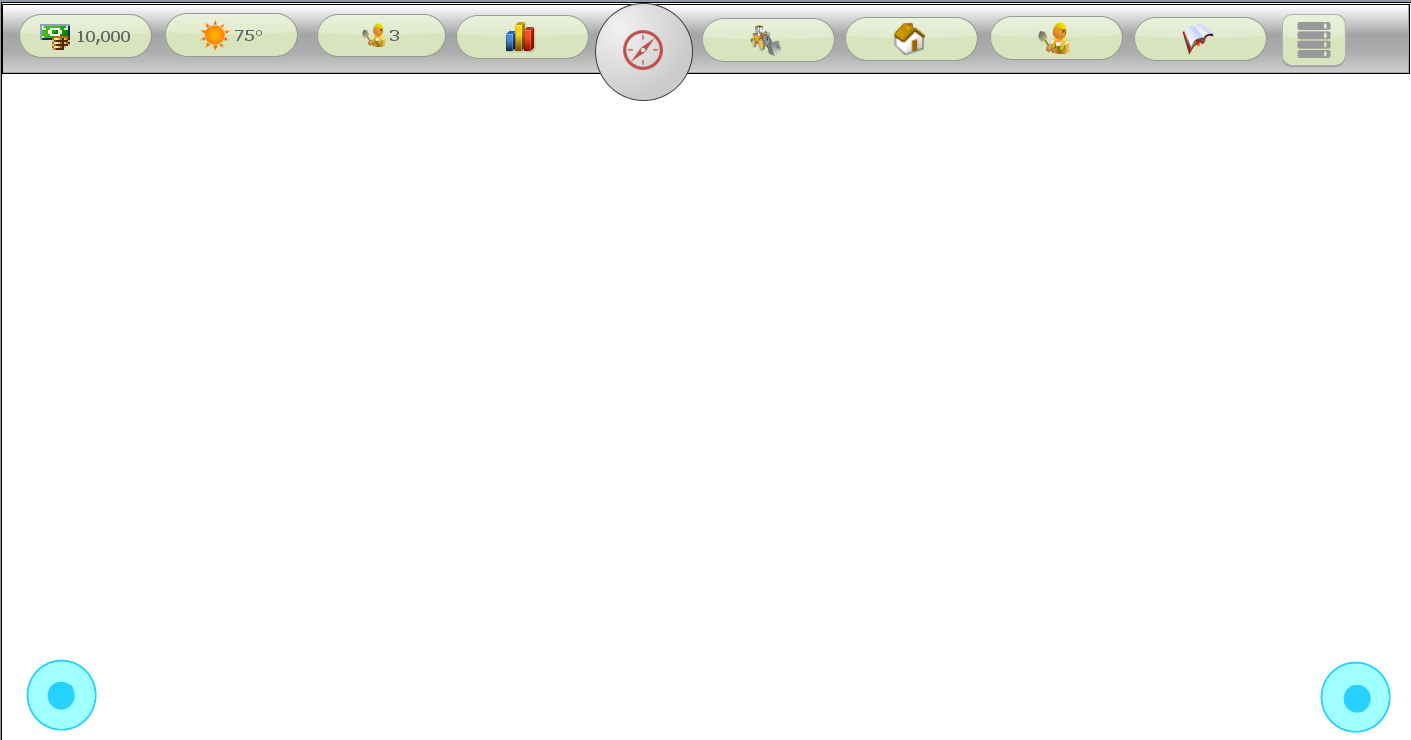 Money (Top Left) - The money bar shows how much money in cash you currently have. This number will flutucate when ever you buy or any anything. If you click the money bar, you will be able to see a breakdown money coming in and out of your mine with informative breakdowns from equipment, wages, and other costs. Also found in the money bar is the Loan Screen, here you can recieve loans to buy new equipment, claims, or anything else you may need it for.
Weather (2nd From Left) - The weather bar is very informative for scheduling of tasks. Here you can find out what the current, future and past weather was like. This is very helpful because equipment run during hazardous weather can be deadly for your crew and bottom line. Hazardous weather is the perfect time to schedule equipment repairs because the equipment shouldn't be running anyways.
Worker List - This bar shows you your current workers. By clicking this bar, you open your workers task list, which are assigned by you. In the process of running your mine, its suggested that you check back every few hours to make sure anything hasnt changed. You can assign workers to dig pits, build buildings, and various other tasks that are helpful for your mine.
Charts Bar (Left of Compass) - With the charts bar, you can be shown graphs of all of your mines operations, from time to do certain tasks, to how much fuel a piece of equipment is using. This is helpfull for determining when to replace machinery.
Compass (Middle) - The Compass opens the map of the claim, along with neighboring claims. You can use this to Fast Travel to machinery accross the mine, or visit your neighboring claims. In Full 3D mode, you can use the compass to guide you around your mine.
Equipment (Right of Compass) - The equipment bar opens up the equipment shop. Here you can browse what equipment is for sale based on brand, type, and new/used. This screen also lets you see what equipment you own, and what upgrades you can buy for it.
Buildings ( Right of Equipment) - The buildings bar lets you see what current buildings you have on your claim, what upgrades they have, and what buildings you can build. Buildings help you buy providing shelter for equipment and workers to speeding up various tasks. Buildings start off with a upfront price and also have weekly maintance costs with them. Various buildings included, lodges, shops, garages, sheds, and various others.
Hiring Workers (Right of Equipment) - This tab is one of the most important. Here you can browse current job seekers that are seeking to join your mine. As you start, you will have to deal with less than perfect workers. As your mine expands and gains more fame, you will have expert operators and mechanics want to join you, but they also come with a price. Workers you hire gain exerience for each task they complete, also you can send them to training school to gain skills faster. As your workers gain more experience, they will also want more money, so be sure not to send them all to training school on day 1.
Friends (Right of Hire) - Origanly the map, this button is changing to your friends bar. Here you can invite friends to your mine, chat with them, open your text messages(Mobile), and see your friends mines.
Menu (Top Right) - This button opens the menu for Mine Tycoon. Here you can change controls (PC & Mobile), change graphics, sounds, music, and various other options.
With this sleek design, it becomes very easy to jump right into playing Mine Tycoon! Please take a few minutes to visit and like our Facebook page! Facebook