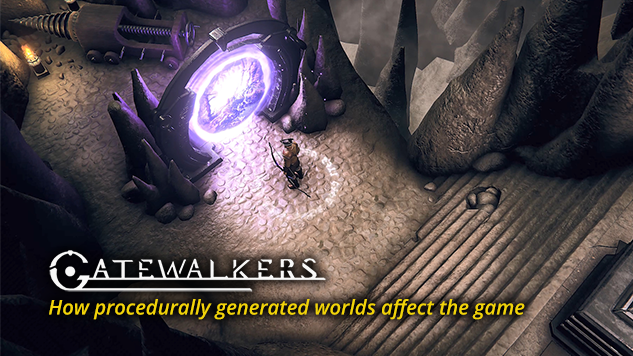 Do you know this feeling, when you enjoy the game so much, you want to forget it, so you can experience its greatness once again? Yeah, we know it too. It doesn't stop us from playing the game again and again, though. However, we are not impressed as much as the first time, because we know what's waiting for us behind the corner. That's why we wanted to make our game one-of-a-kind on almost every level, so with every new game, player will be able to use the knowledge they've learned in-game before, but circumstance might be different.
We wanted Gatewalkers to be a tactical game, but also unpredictable. That's why one of our choices was to make the worlds generated procedurally. This mechanic is pretty old, when it comes to the history of game development, but as effective as the day it was used for the first time. But, what does "generated procedurally" actually mean? Well, the answer is simple: we - the developers - create all the features and the program uses its algorithm to combine them into a big picture. Of course, there are many complicated tasks to complete, during this process, but for the time being, the basics will suffice.

Why is it so useful to us? Because we're sure that the player will never come across of the same world twice. The shape of the terrain will be different, same goes for positioning of enemies and location of essential items and resources. That requires the player to come up with completely new strategy, every time they enter the world. They don't know what to expect. It's our way of forcing them to adapt and change their gameplay style in order to survive. Also, that is why players cannot use one manner of fighting during game. They need to flexible, because the threat will be constantly changing its position and, what goes with it - the scenario of the combat will be different.

The atmosphere changes too. It is much more special, when the place that player visits is not familiar. They don't feel safe, they do not know what to expect; they are not self-confident enough to make risky choices. They can't stick up with one type of plan during an expedition and keep repeating it over and over, during every gameplay. They need to plan ahead what their next steps will be, in order to not expose themselves to unnecessary losses. This is also our way of guiding them into tactical mindset and sticking to it.

Thanks to that mechanic, we don't have to worry that our players will ever get bored with exploring. Because of procedurally generated worlds, our game will be unpredictable every time they play it. So, when it comes to Gatewalkers, we will never have to ask ourselves the question: how does it feel to play this game for the very first time. We made sure, that every single game feel like the very first one.

We've made the game's world full of surprises, and we just cannot wait to see how the players will deal with them all. Keep up with our newest updates to get to know what we're planning, and we hope we will see you on the other side of the Gate soon.