Help Volty Review
Our Review By Angela LaFollette
I love games that make my brain cells come to life. Endless runners and mindless match-3 games are good fun, but the games that force us to think outside the box offer the most satisfaction. Help Volty is one of these games that requires a bit of thinking. The idea behind Help Volty is to help a little electronic insect find its way out of a series of complex puzzles. There are enemies to avoid, traps to sneak past and mechanisms to discover.
The game is a little confusing since there aren't any instructions, but that's part of what makes it so enjoyable. Without giving too much away, players are given three coins for each level. These coins must be deposited to unlock one of the puzzle boxes. Inside each box, there is a door that needs opened to free Volty and to collect the next series of coins to continue to advance. Using all three coins sends players back to the previous level where they must earn more to continue playing.
Moving Volty is as easy as dragging a finger across the screen. The insect moves intuitively, but not so quickly. It's up to players to maneuver the insect properly to find the solution all while trying to avoid death. Some of the enemies are quick and require fast reflexes while others are unpredictable and need a bit of strategic planning.
Along with the delightful puzzles, the graphics and music really stand out in this game. I was quite impressed with just how well-designed it looks. It's beautiful and captivating. I felt like I was in a whole different and magnificent universe.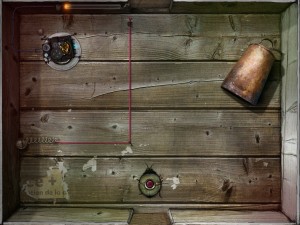 Although Help Volty is a clever puzzler, it does have a few faulty areas that could be improved to make the gameplay tighter. For instance, no tutorial or introduction can be off-putting to some players and rather frustrating. Furthermore, while the three coins system adds some replay value to the game, this method of punishment can get old quickly for gamers who consistently keep dying. An option to skip or even a hint system for those who may wish to use it could be implemented. Lastly, the game needs more levels. It's not entirely too short, but it can be completed in around an hour and a half. It needs more to keep players interested.
Overall, Help Volty is an impressive indie title. This is Tvndra Producties first game, and it's evident that the developers really know what they're doing. From the haunting and gorgeous graphics to the mind-bending puzzles, everything just works together to create a thrilling gaming experience. Check out the video below to see more, but be warned that there are a few spoilers.
Read more: 148apps.com