Brethren! Do you feel wanting?
Sisters! Do you feel unfulfilled?

Your mind plays no trick on you!

Waste no time filling the void with material goods!
Succumb not to vain material cravings!
Ignore the Commonwealth's nationalistic propaganda!

The answer lies in yourself!

NO country, NO diety, NO idol - only your own strength.

Meditate on your strengths!
Accept your role in the Universe!
Be Fulfilled!

Join the Preachers!
---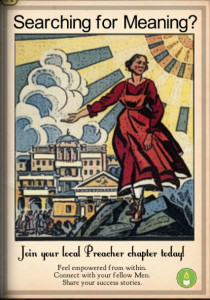 The Preachers are a growing spiritual movement without any religious affeliation. Instead of deities or redemption, they stress the importance of one's inner strength and honing their true potential. Much like the gym improves the body, their chanting sessions improve the mind. There are no churches, only local chapters that meet and practice together or share common experiences. There is no idol worship either, only worship of the Universal forces themselves.
The Preachers have faced persecution in the Commonwealth, speaking loudlyagainst the state's narrow-mindedness and anti-spiritual laws. In recent years they have even been branded as terrorists, blamed for instigating riots and anti-state riots. But who can really tell which side is spinning the better propaganda?
---