To some, crafting it's just something you do to make some extra gold at the end of the day. However, to others it's a passion and a way of life. Gloria Victis takes crafting to a whole new level. Striking a balance between realism and reward, our crafting system has been dynamically engineered to be like no other. In the real world craftsman of all ages share and work together to develop new techniques. Gloria Victis enables players to work together to not only craft unique items but to sharpen their skills. You can also join or form your own crafting guild. With 10 crafting professions available you can create items that are amongst the best in the land.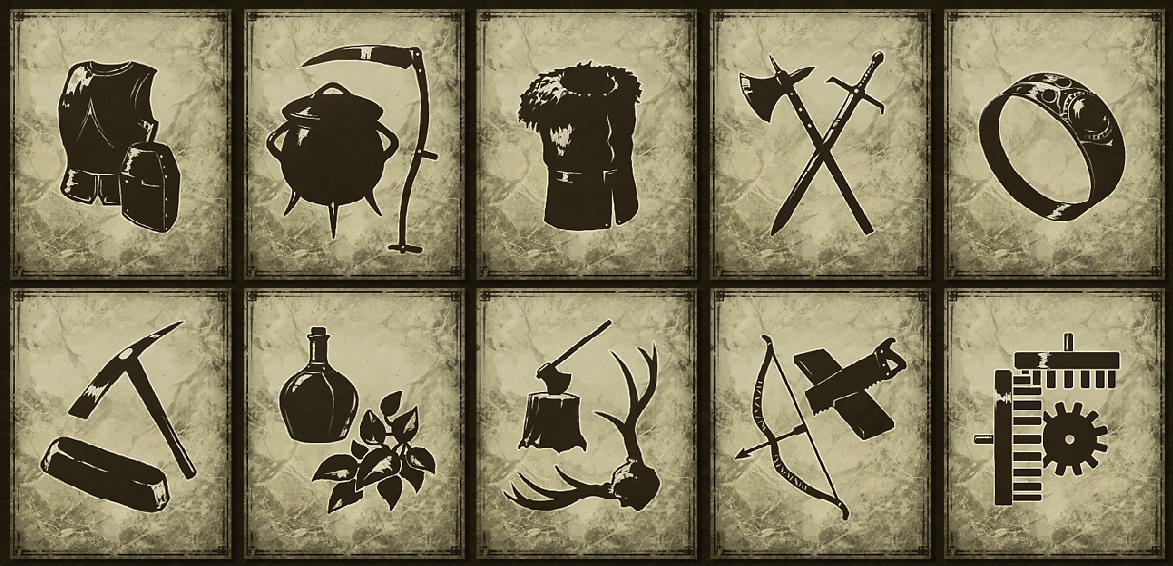 Armorer:
Quality equipment is important for any adventurer. A skilled Armorer can craft the heaviest, shiniest and strongest armor a knight would kill for. Saddle your horse and ride into the sun searching the lands for the rarest recipes to combine the various metals and materials for that epic piece.
Weaponsmith:
Need a weapon to take down a Boss that's been eating the town's sheep? Then look no further than your local Weaponsmith! Specializing in crafting weapons for real warriors who don't shy from the heat of battle. Masters of metal and wood, the Weaponsmith can craft a blade that will get the job done.
Engineering:
Did your glasses break? Or maybe you need to take down a castle? Engineering is an incredible versatile profession. You'll need the Engineer on your side when creating traps, machines and variety of devices for you battles. With the power of science at your call, engineers can turn the tides of battle in your favor. Trust me, I'm an engineer!
Hunter and Lumberjack
Chop, chop! Harder than it looks? A skilled Lumberjack is an artist, not a butcher. Quality wood you will provide to many craftsmen and their muscular arms desired by all the town's maids. Not only will you gather wood but hunt down animal skin scaring rabbits into the woods.
Bowyer and Carpentry
Why run into battle and risk having your head lying on the battleground? When you can choose to clear your foes from afar? This profession is much more than sharpening a few sticks. Only carpenters can craft the most dangerous ranged weapons. Additionally, woodwork is a craft used in times of peace to decorate homes and build furniture. Never poor, never useless, build bows to javelins and even ammo, you will find that carpentry is essential to any crafting guild.
Cooking and Farming
Anyone who says that cooking is a lesser craft than others; have not charged into battle on an empty stomach or faced a hungry barbarian for that matter. A great cook will not only fill the belly but also empower you with special bonuses to make you stronger! Reduce the number of hungry barbarians and make the world a happier place by becoming a cook!
And fresh screens: