Description
The Game Universe


Each creature, entity and place is imbued with the 12 Natures, with each fighting for the supremacyof their influences. Everything exists in the 3 realms:
- Sphere: for physical worlds and living beings that will be born and die.
- Sheol: for ghosts, recently dead creatures that become spirits again.
- Ether: for Sparks, or souls. Some stay in their paradise, others travel, others are called Divine.

The Start
You are ancient Spark a soul that falls in a battle against a mysterious force. You wake up without memories, without your power, as though you were a new born.

As an ancient elemental Spark, you have one main Nature and 11 others. You will travel through many of the world's hisrotical mythologies and beliefs as you explore and try to regain your lost power. Become incarnated on Earth or elswhere, discovering Hell, Asgard, Sanctuaries. Gain experience, friends, and memories, and spread your main Nature everywhere to become stronger and face the growing threat that seeks to end you for good.

Dynamic Worlds and Theme
Each map has a different ambiance, music style, and culture. You will discover thems ranging from sci-fi, medieval, fantasy, realism, post-apocalypse, horror and more.
Your actions and quests can change the Nature of each map, both for you and for other players. All creatures, spirits, and players are empowered if their main Nature is the same as the map.

Features
Two kinds of gameplay: Spark or creature
As a Spark you have a thrid-person view, enabling a wide range of abilities such as flying and using powerful spells. When Incarnate you have a first-person view, and are restricted by the physical law, but you will gain more experience when incarnate.

Customize your home and your character
Decorate your personal land with objects you find while exploring other realms. You can also customize your character, taking the appearance of each creature you incarnate, as well as re-skinning your weapon.

Craft your own spells
Use powerful spells in the spirit worlds to fight or to affect physical worlds. Each spell can be configured to be used in many different ways: close-range or long-rage, effect-over-time, single-target or area of effect etc.

Apparences and Skins
Take the appearance of each creature which you incarnate. Also scan objects like a lightsaber and re-create them in your home and skin your weapon with.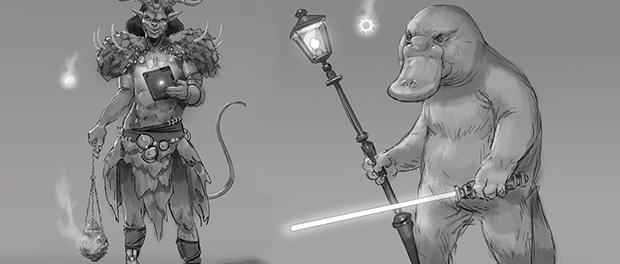 Energy and Health
Using spells consumes your life, so take care when you fight. You can also use your limited energy supply to heal, craft, teleport, and change the map with your influence, construct objects and buildings, possess creatures etc.

Ability Tree
Unlock abilities depending on the level of your 12 Natures. Raise your NAtures to unlock more powerful spells. Combine your abilities to win battles.

Secret Skills
Unlock, by luck maybe, secret skills, that will make the difference in the game. Do specific actions in specific places, you will obtain them.

Karma and decisions
All your decisions impact your adventure and mark your character's Karama card. Karma can have positive and negative effects depending on your actions. It can shape your mindset, influence how NPCs react, unlock quests, reduce your health, etc.