As mentioned in the last few posts we've spent the last few weeks looking at the travel gameplay and moving it forward. To that extent, Anjin and I examined what we call the RoadView in more detail.
This view is shown, while the convoy travels between campsites, milestones or other locations. We want the view to both give the sense of travel and provide a view into the group travelling with you.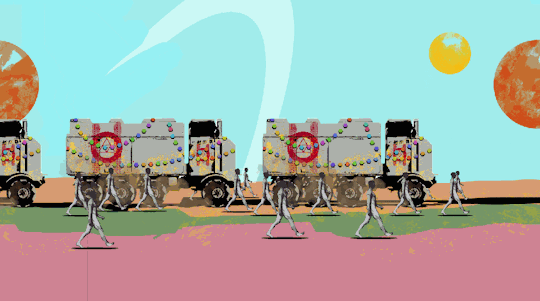 Since your convoy consists of a few vehicles and a lot of followers moving along on foot, we started by taking a look at the most critical part of the view: the walking characters. The quickest way to get them on the screen was to simply take some of Eadweard Muybridge's photographs as a base to quickly get a walk cycle and fill the screen.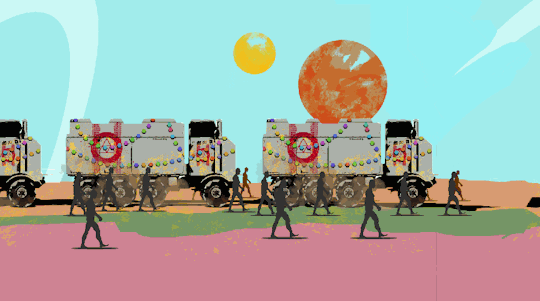 Since a lot of characters also require a lot of costly animation work, we played around with silhouettes instead. These are a lot quicker to create, and still work really well.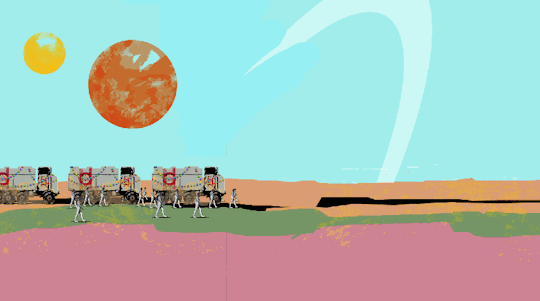 Another way to make the animation simpler and cheaper is to simply reduce the scale. With the followers further away from the screen repetition among them becomes a lot less noticeable. It's not a coincidence, that this is a scale and perspective much reminiscent of the Banner Saga.
However this perspective comes at the loss of a lot of detail and relatability with the characters.
So as a last step we looked at removing the characters altogether, and having only vehicles. However this meant that the characters had to be on the vehicles. This started out as a time and cost saving idea, but turned out to be really great. Vehicles stuffed with belongings and people makes the trek feel a lot more like an exodus and conjures up images of overfilled indian trains.
While the image above shows the vehicles driving at top speed, we've decided on a more relaxed pace for the regular view, so that we can add people walking alongside if there is time for it. Of course this removes the awesome motorcycles, since those only work at high speeds, but that in turn gives us the ability to add ox carts and other weird vehicles into the mix.
Stay hydrated,
- Martin