Welcome to the first of our Faction Features, featuring EMPOL - the human faction.
---

Summary
EMPOL, the Earth-Milky Way Political Organization, is humanity's central authority for interplanetary governance and interstellar relations. It administers the various federal governments of Earth as well as her colonies.
EMPOL was created in 2280, after humanity made contact with the Andrasi Federation. The Andrasi were at that point the oldest civilization in the galaxy, and maintained order though their Galactic Forum. Humanity took its place on this forum, and became a close ally of the Andrasi. However, the sudden disappearance of the Andrasi upset the galactic peace. EMPOL attempted to continue to enforce Andrasi-style order in the Milky Way, despite being nowhere near as large or powerful. They developed a reputation as upstarts and interventionists amongst their rivals, though their allies tend to interpret EMPOL's actions as generally good, if naive. Eagerness to involve themselves in galactic politics would famously culminate in one of the galaxy's most destructive conflicts ever: the EMPOL-AIAD War.
Today, after achieving victory against AIAD, humanity is emerging from the largest catastrophe in their short history, retaining little of their pre-war innocence. Difficult questions remain about humanity's place in the Galaxy. Now, with hard lessons and experience bitterly earned, humanity seems focused on new goals: with the war over, they are free to make their own place in the world, and create their own legacy.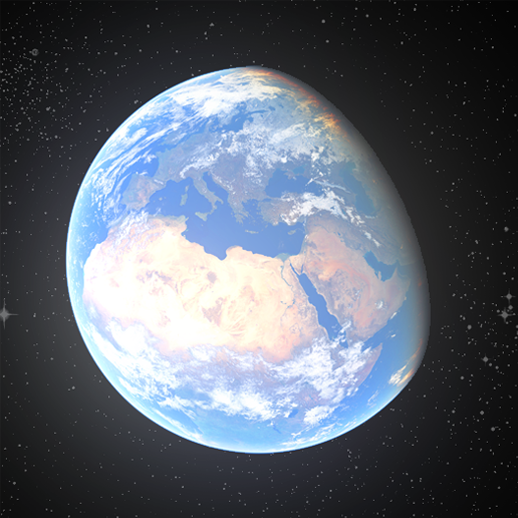 Earth, third planet in the Sol System, birthplace and cradle of human civilization. Earth itself was attacked by AIAD forces four times during the EMPOL-AIAD War. Three Sol raids penetrated as far as Earth, inflicting moderate damage. In one pivotal battle, AIAD forces reached Earth orbit, and began to bombard the surface. Of the nearly 3 billion Humans killed in the war, over 50 million were killed during this attack. No fewer than 10 major cities, including Cairo, Tokyo, and Boston were bombed from orbit using nuclear weapons and railguns.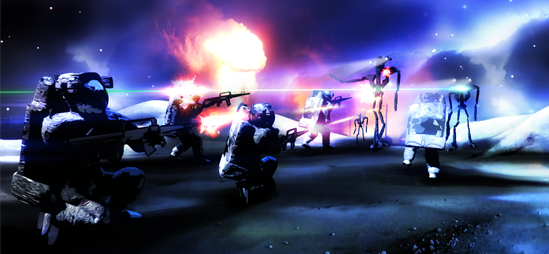 Human soldiers fighting AIAD Troops on RAYNET-B, during the EMPOL-AIAD War. While the conflict was predominantly fought in space, numerous troop engagements occurred in situations where seizing an objective, rather than destroying it, was the goal.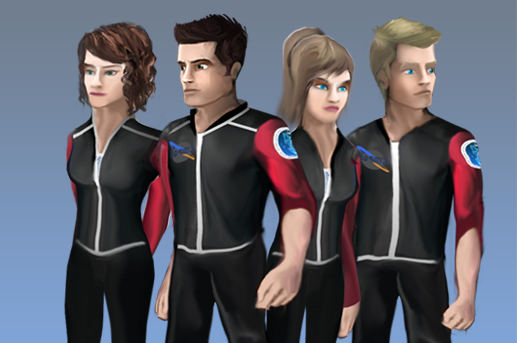 Several humans, including male and female officers in EMPOL Space Command. Humans stand roughly 8-11 IS-increments tall, with females typically ~90% the height of males. Human skin tone, eye color, hair color, and other attributes are also subject to a wide variance.
While humans have two "strict" genders, several transitional genders also exist, and enjoy equal treatment. Human coupling may be symmetrical, or asymmetrical although only symmetric couplings may yield reproduction.
Humans communicate verbally, by modulating sound waves with modified respiratory system components. They also express feelings and emotions through gestures and the movements of their faces.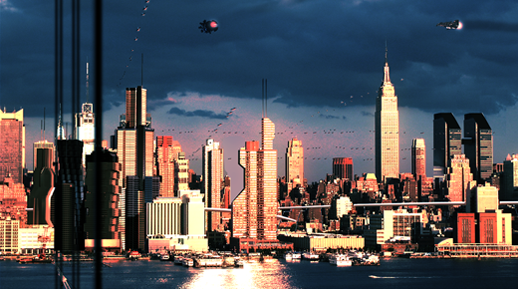 New York City, USA, Earth. New York is one of Earth's most populated cities, and is the home of the EMPOL Trade Organization Headquarters. Note the Providence Spaceport in the foreground, whose carbon-fiber cables allow "space elevators" to climb the distance to space.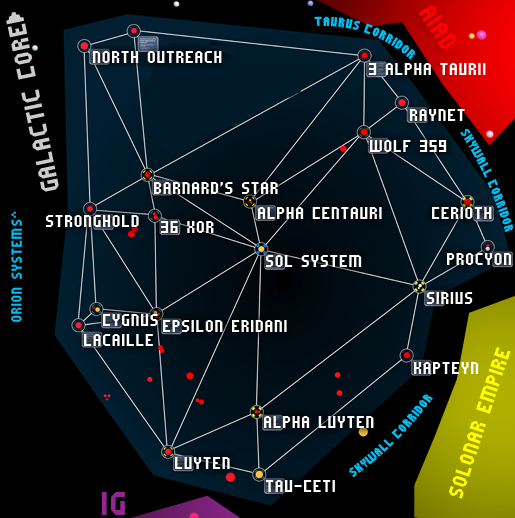 A political map of EMPOL's territories. While 30 star systems and about 45 stars fall within EMPOL's borders, only 16 have distinct colonies. Several systems are also home to mining operations, military bases and even resorts. Note the proximity to both the Solonar Empire [East] and AIAD [North].
The narrow Taurus Corridor is a DMZ as stipulated in the EMPOL-AIAD Treaty, to allow shipping between the two civilizations, and as a buffer against further border tension.
Of the 16 colony worlds in the EMPOL sphere of influence, six are habitable terrestrial planets, with O2 atmospheres. On colonies where breathable atmosphere and/or UV protection is unavailable, large domes have been fashioned to encompass cities. Worlds with lower gravity employ the same gravity technology used on EMPOL starships distributed beneath city streets, so that parts of the planet enjoy Earth-normal gravity.
The Orion Systems are a large expanse of mainly unexplored systems in the Greater Orion Arm of the Milky Way. Since the end of the war, more expeditions to these worlds are underway.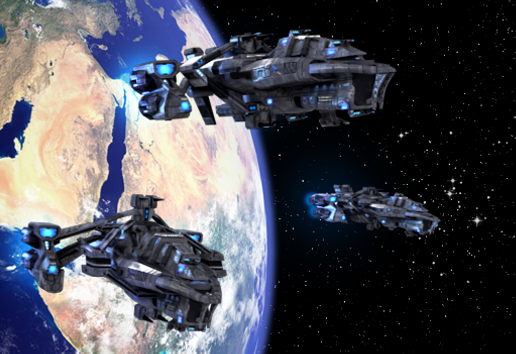 A group of EMPOL Cruisers. The two vessels above and on the right side of the image are Kilo Class cruisers. These vessels are tasked with patrolling EMPOL borders and forming the basis of battle-groups and cruiser squadrons.
The similar but larger Vegas Class heavy cruiser, pictured below and to the left, is a more specialized class of ship. It includes large bays to accommodate mission-specific modules such as additional missile launchers or electronic warfare equipment for combat operations. In peacetime these bays can be used to house scientific equipment, humanitarian supplies, and additional reaction mass for long missions. Because of the Vegas class' strong shields and powerful weapons, it is also frequently operated as a flagship for EMPOL battle-groups and task forces despite its reduced agility and acceleration.
---
Due to formatting restrictions here, you can check out a more fully formatted version of this article on our website here. Click on the EMPOL logo.
We will soon roll out similar features for the other factions in the demo, as well as individual starship features. Watch this space!