Quraishwas one of the first retail games based on the DSK engine. It is a 3D real-time strategy game developed by AfkarMedia, a subsidiary of publishing company Dar Al Fikr in Damascus/Syria in 2003. At that time, AfkarMedia decided to take the challenge and set new boundaries for the gaming industry in the Middle East region by developing Quraish, which was considered the largest game production for the region.
Quraish was a sizable involvement for AfkarMedia in which DSK proved its reliability and scalability for processing a big number of assets in its pipeline, and rendering large numbers of triangles on low/mid-end graphic cards of that time.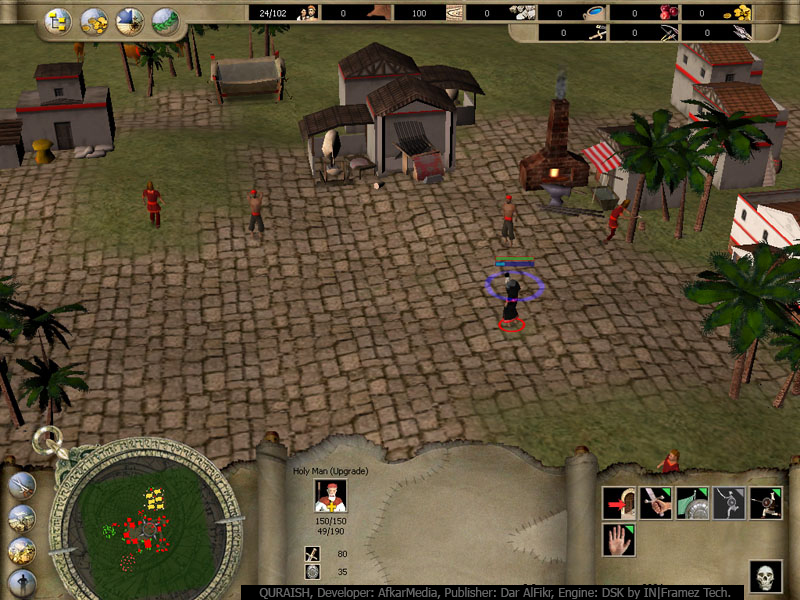 For developing the game, the team used DSK to build "Edreesy"; a custom level editor for designing levels and defining units and their actions. DSK supported interactive real-time terrain modeling and rendered the editor's scenes using the same effects as the actual game. Hence, Edreesy provided WYSIWYG editing experience.
The most notable rendering features of DSK in Quraish were the use of dynamic lighting for time-of-day changes, rendering hundreds of animating army units, and 360-degree eagle eye camera with zoom functionality.
For animation, DSK supported advanced animation effects such as morph and skinning animation which enabled artists to create unique animations of long periods with very low memory footprint.
The following are captured video for the gameplay:

Captured video for intro:

Captured video for cutscene: