Hello, I'm Joe, and to my surprise, I've spent the last several months on sabbatical making Orkward: the space ork dating game. It's available for free on itch.io and this the story of its development.
This devlog is guest written by the project's artist, Isaac Garabito. Isaac has done the most amazing job in breathing life into the five dateable orks of Orkward - as well as creating background art, trophy icon and a logo. I've been constantly delighted with the designs he's showed me, so I've given him the chance to write about his experience on the project. And here he is!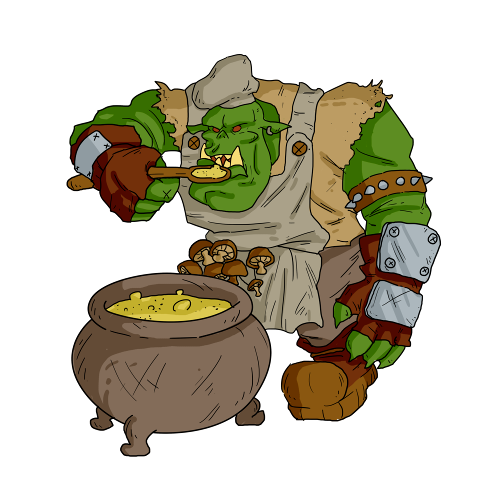 Working as a freelancer can be a wild ride at times. This past year I have worn plenty of hats in the different projects I've been fortunate to work on, but usually -most of the time- such projects have similar paths.
Imagine the timeline of a commission as a line drawn on a chalkboard. There are plenty of ways a project can unfold itself. Sometimes it reaches great highs and lows as you struggle to find an effective resolution that all parties can agree with. Sometimes it's straight - and easy, but also plain. Sometimes the line fades away as you never reach a conclusion, and you even forget what that project was about anyway. Sometimes it looks like a Six Flags roller coaster.
Most of the time, when you have reached a certain level of professionalism and expertise, most of your timelines start to look alike: a little bump here and there, some tangled up stuff at the beginning and a satisfying straight line at the end - the unmistakable sign of a finished project, of a solution found.
With expertise comes, perhaps inevitably, a certain feeling of boredom, of predictability, as if you were stuck in a once passionate but now loveless marriage. But every once in a while something new finds its way to you and it reminds you why you started this whole career thing in the first place.
I'm no old man, but as I get closer to my thirties I can see how I keep on walking down the same roads over and over again. And this project was a wonderful way to explore a road I hadn't even walked on before: an Ork Road.
It's always exciting to read a brief you hadn't read before in your life, and let me tell you, I've never been pitched an ork dating ork game before. Getting to know these characters and develop the visuals for this game has been like a breeze of fresh air in the middle of a really hot desert. We will call this desert 2020.. Having such a variety of characters, all of them with different personality traits and visual characteristics, is an opportunity to let yourself be and just really go for it as a creative.
I have to say orks are not the type of character I am used to drawing -I usually go for femme godess-like entities and strong women- which made this work opportunity even more interesting for me. It was a scary position to put myself in, which made me want to go for it even harder. What can I say? I like a challenge.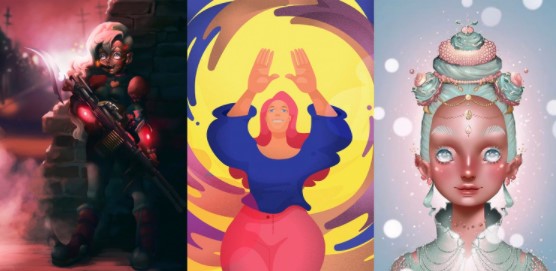 Chompa was my first choice to test the waters and experiment. Here's what the brief said:
Chompa owns a bar and really, really likes drinking. Wears a burgundy leather jacket and a fluffy fur cap (which he uses as a cleaning rag).
Of course I had to choose the one with the weird hat and the beer jar! I did want to challenge myself but if I was gonna develop my ork designing skills it had to be with someone I could actually relate to.
The moment Chompa's design was approved I was feeling more and more confident in what I was doing. Let me tell you something that might be a surprise: orks are not easy to draw. They have very specific proportions and it's easy -really easy- to end up with a bulky and stiff little man with a big head and no character to him.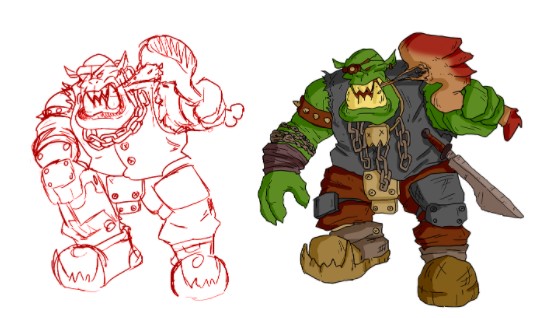 It took me two more orks to actually feel comfortable with the style choices and the end product, so much so that by the time the last ork was designed I had to go back to Chompa and make him from scratch. He was in fact approved but I am a perfectionist and there are certain things I just can't do - and letting myself down as an artist is one of them.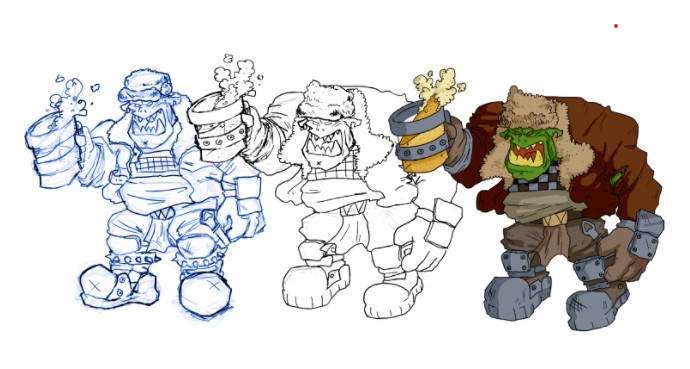 Orkward has been a great source of joy and -why not say it- distraction for some very difficult months this past 2020, and for that I am eternally grateful. I could go on about the background design, the icons or everything else I have had the opportunity to develop alongside Joe, but I think the real experience for me was getting to know and love this lovely group of brutes. After all, character design is what I really love.
As an artist you don't really just create visuals based on a list of words, personality traits and physical characteristics; you really create a character -as an actor would do- you find empathy and understanding for them, you get to like them even when -like Skullkrusha the warboss - they are basically war machines with fangs (I'm sure he's been through stuff). You also find yourself missing them when the end of your shared road is reached.
So, as I finish this devlog and prepare myself to walk again over well-known roads, I'd like to raise my beer glass to these five lovely lovely fellas.
Cheers my friends!