Want to see what Johnny Scraps: Clash of Dimensions looks like but have no Android platform or just don't want to spend your hard earned gold yet?
Check out our online DEMO VERSION at the link below!
And don't hesitate to give us your comments! And if you really like it, you can support us by getting the full version for Android on :
Play.google.com
And share it with your friends!
We decided to make it possible for people to test a small demo of our game on our home website, so everyone could at least get a good look at how the world feels and plays out!
In the DEMO version, you get to play the tutorial, now adapted to the keyboard, and 3 game modes of the first level! We know it's not much but please keep in mind that it only serves has a small taste of the main course!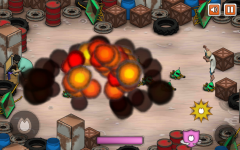 Using a special skill on tutorial!