Crafting
Crafting holds a prominent place in Holyspirit. It provides access to some unique items, you can enhance the capabilities of your items or you can create a golem companion.
Blacksmith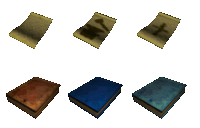 You can get a needed blueprint and the necessary ingredients. The blacksmith, for a small fee, will produce the desired object, but it has no blessing (= special ability of the object).
Object creation will consume the ingredients, used in its design and the blueprint, unless it is a book. Books are exactly the same as blueprints, but are infinitely reusable, and therefore they are much more rare and expensive.
Litanies and blessings
This is about the priest and holy water. Indeed, you can bring a litany and the amount of holy water to bless a necessary object, giving it special abilities.
The litanies can even help design something divine or diabolical.
Like with blueprints, you also can find books with litanies.
Golems

In addition to objects, artifacts help to get a companion. Indeed, it is possible to find blueprints and litanies to build a golem.
For example, you can find the blueprint of iron golem, which requires 50 iron ores. Then, in addition to paying money to build it, you have to pay a certain cost in soul points. Indeed, you must not forget that when you kill a demon, you recover his soul, his demonic energy.
And just as the demons can animate objects (see class of monsters: Animated Objects), you can reuse their energy to liven up your golem.
Moreover, the litany will let you add/change the capabilities of the golem (more life, damage by fire, ... or even special attacks or auras of supports).
If your golem dies, you will pay a nice sum of money and holy water to purify it and repair it...
- originally posted by Gregouar (edited & rewritten a bit)