The Amazing Fantastics will feature just over 20 playable heroes across all episodes (episode 1 launches this summer for PC). If you've played the Caprelli Demo then you've seen six of those heroes, some of which will return for episode 1 alongside some new faces. In this article I'm going to take a look at a few of the heroes in The Amazing Fantastics and talk about their distinctive play styles.

Note: This article describes the heroes as they appear in episode 1 of The Amazing Fantastics. Play styles may change as the heroes level up and gain new abilities later in the game.
Singe
Seeing as though Singe is the protagonist and main playable character in The Amazing Fantastics, it seemed fitting to make him a balanced, well-rounded, and straightforward character to use. He's light on gimmicks, his main draws being his solid stats, ease of use, and reliability on the battlefield.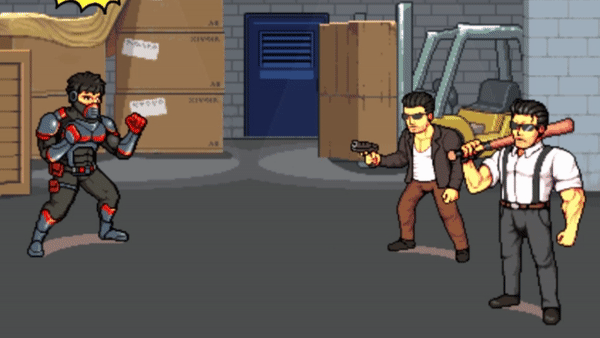 Ice Age
The ying to Singe's yang, Ice Age's icy powers contrast Singe's blazing heat. Overall, Ice Age is fragile and has mediocre attack and speed stats. In the face of fire, Ice Age's fate is all but sealed. However, he makes up for these shortcomings with three moves: Whiteout, Cold Shell, and Taunt. Whiteout has the potential to freeze all enemies, stopping them dead in their tracks for up to two turns. Taunt draws all enemies' attention toward Ice Age, which seems like a bad idea, but when paired with the defense-boosting Cold Shell allows Ice Age to draw enemy fire while taking relatively little damage, allowing his allies to act with less fear of being hurt.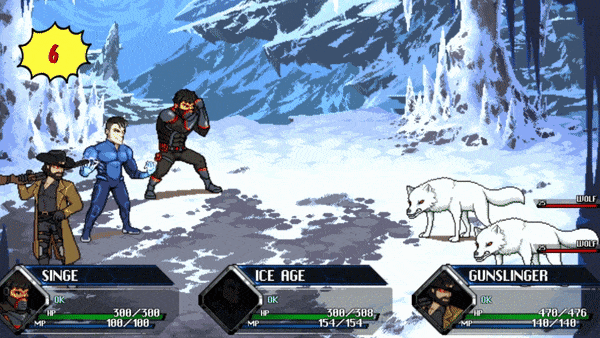 Vipera
Smart and enigmatic, Vipera's got tons of tricks up her sleeve. She won't be relying too much on standard attacks, instead opting for grenades, molotov cocktails, flashbangs, and other weapons and gadgets that most other heroes cannot use. She can also steal items from enemies, craft new gadgets on the fly, and has access to exclusive healing items. This item-centric moveset gives Vipera a unique feel compared to other heroes, similar to Rikku from Final Fantasy X and the Salve-Maker from Bravely Default.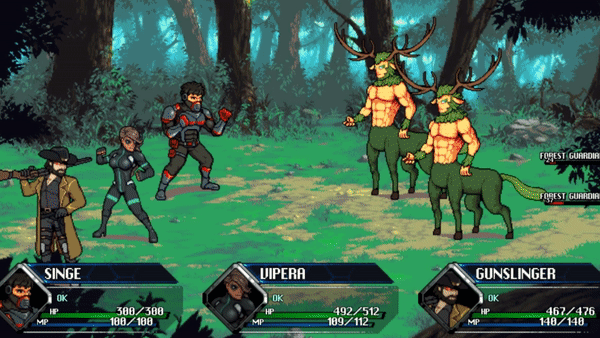 Gunslinger
Gunslinger's Blood Suck can restore his HP while simultaneously damaging enemies. This built-in recovery compliments Gunslinger's sturdiness. Stats aside, Gunslinger, like Vipera, has exclusive items, his in the form of ammo for his shotgun. If he has the ammunition, he can fire piercing shots that cut through the enemy's defense, stun opponents with specialized Stun Ammo, use Scattershot Shells to hit all enemies at once, and more. Gunslinger is a very offense-oriented character and his one true weakness is Holy-type attacks.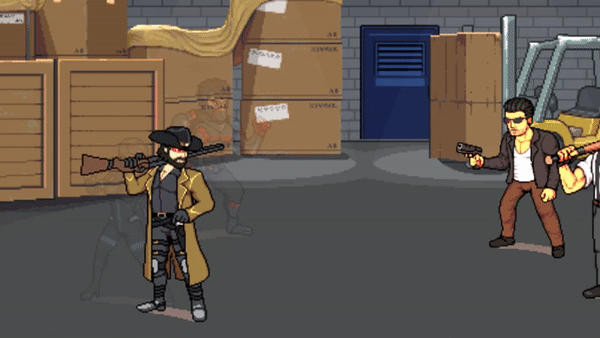 Thanks for reading! Stayed tuned for part 2 and keep an eye on The Amazing Fantastics, episode 1 coming this summer!
Come chat with us! We just started our server and are looking to build our community.
Caprelli Demo
Haven't tried the Caprelli Demo yet? Check it out here. In this demo you'll play as Singe, Vipera, Gunslinger, and others as you escape Johnny Caprelli's mob hideout and face off against a murderous psychopath.