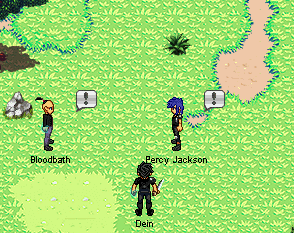 Azusa: Battle of Gods version Alpha 4.5 features so far:
Unique Roleplaying Gameplay: A completelly different concept to Online Gaming is here; A mix of table RPGs and online RPG results into a enforced roleplaying enviroment that you develop your character as if he is part of that world, and as you interact with other players your characters story grows and becomes relevant to a point you can change completelly the entire world's destiny! Everything in Azusa is based on players story progression, there are some different rules for this to work, I suggest you check them ingame!

Dynamic World: Everything being Buildable and Destroyable depending on your resources and power;

Complex Civil Gameplay: You can play as a normal person and yet have a complex gameplay, being able to build, hunt, tailor, cook, be a musician, etc;

Time and History: As the game progrides, and humans dies of old age, you can play as your next generations; and everything in the game's world is affected by players action; You can fight to define the destiny of your next generations and become a historical hero!;

Custom NPCs: You can defeat a Bandit and convince him to become your worker, as a Civil NPC or a NPC that works for you, selling your items and relics!;

Player Made Towns/Citys: Azusa is so dynamic that even cities, clans, towns, can be created by players as the history progride, the opposite can happen too as cities can be completelly destroyed during a war!
Angels, Demons and Gods: Angels, Demons and even Gods are played by real players, and as the Great Wars happens you can pick what God to fight for, and that will define completelly the world for the next generations! Pick between Poseidon, Athena, Almighty, Hades and Pandora; Even while you can't see Angels and Demons they are around, and can talk inside people's head and lead them to the right or wrong path!

Guardians: The humans that decided to fight for a God, are called Guardians, they wear ancient armors based on life forms that gives them super powers, needed to fight the army of the opposing gods; There are over 60 armors (Counting the variations) and more are added monthly; Each Guardian have their own skills and powers! Pick wisely your armor and have fun!

Guardian Tiers: There are tiers and a "Hierarchy" of armors, the common ones are the Ordinary Armors; and is the most common type of Guardians, as every God can have an ordinary Guardian: However every God have a stronger hierarchy of armros: They are usually golden and are named depending on their Gods; Almighty are Elites (based on epic qualitys, such as Love, Truth, Justice and Peace); Athenians are Zodiacs (based on the 12 zodiac signs); Poseidon are Marines (Based on oceans).

Hades Reapers: They are humans that died and ended up mind-washed by Hades, forced into become a fiercy followers of him, and are given armors made by the Death Lord; they work as ordinary guardians, but their armors are based on humans flaws. Reapers can go back to earth trough Hades's portal and fight their previous friends, but now in name of Hades. Reapers also have a stronger tier; they are called Princes of Underworld.

Dungeons and Relics: There are many Dungeons in Azusa, each one protected by a Boss, those usually collect treasures called "Relics"; Relics are historical items that during previous wars ended up absorving their Guardians powers, and recently they can be used as a source of power; Each Relic have its special function and unique skill, from enchanted flowers able to drain blood to magical rings that gives the wearer invisibility! Relics can really makes the difference in combat so, good luck colecting them!
Unique Nutrition System: In Azusa everything you eat actually matters, when you train your character you will convert Nutrition into Status. Each food will give a certain amount of Nutrition to each kind of status, so eating a cooked meal is way better for your training then a raw meat. Experienced players know how to feed properly their characters before training!


Many training Methods: Tired of doing repetitive things to get stronger? In Azusa there are over 6 different training methods, and each one is good depending on your playstyle! And the methods vary depending on your situation. We have from half afk training methods, full afk training methods or, the best ones, active training methods; and there are like exercises to get your strenght and endurance up faster; charge cosmo to get force and resistance faster, and even sparring your friends to get your fighting skills up are great for developing your character at Azusa! Also not to mention the classic methods of killing creatures and leveling up... Everything depends on your playstyle!