You have only 4 weapon slots: 1 is for knife, 2 — for revolver and the other two(3 and 4) are for rifles, shotguns, carabines and so on for your choice.

Each gun has a unique special action that you can perform with it. The Alt key is responsible for this by default.
Like so, you can cock the hammer of you revolver by holding the Alt to fire an instant shot when you press the Attack-button. And if this is not done then your character will press the tight trigger for several moments before the shot. So it will be delayed a bit.
Revovler
It is your best friend for a good half or even the whole game.
Tried to make it not a classical "shit pistol from the start", but satisfying and useful until the very end.

Simple shot — delayed
In addition to the ability to prepare the revolver for a shot in advance, the rhythmic cocking of the trigger by holding the alt with timely clicks on the Attack-button allows you to make a quick series of shots.

Before exiting from cover, Alt held down, preparing the weapon for the first shot. And then quick burst of shots with Alt+Attack in turn.
Shotgun
Shotgun`s alternative action is double shot. The gun itself is pretty accurate and has a relatively small spread. So you can fire on short and medium distances. But this is relevant just for the single-barrel shot:

Single shot with simply pressing the Attack-button
And when fired with a doublet the buckshot will be scattered horizontally:

Attack-button + holding Alt — doublebarrel shot
This may help you to save time or maybe even ammo (if there are more then 2 enemies standing next to each other) in a gunfight.

using a doublet shot
Carabine
Now you still have the last slot. Maybe, you should take a carabine "Compromise" for the more effective firing at medium and long distances. It is equipped with a scope which has two modes:
1) without any zoom;
2) and the alternative one — 2x-zoom.

two scope modes on the carabine
"Compromise"
But the ammunition used by the carabine is pretty rare for the first chapter. Also the automatic rifle, which you`ll find further in the game, uses the same ammo. And the bolt-action sniper rifle has a 4x-scope. So you`ll have to choose, for example: between a set of two more effective for their tasks, but highly specialized guns (automatic + sniper), and a less rapid-fire and long-range, but one and universal, carbine.
The prevalence of the ammo is also an important factor when choosing a weapon. Since there is no replenishment of your resources after death. So maybe it will be easier to take in one slot, let`s say, shashka-saber. A simple, understandable weapon that do not demand any ammunition.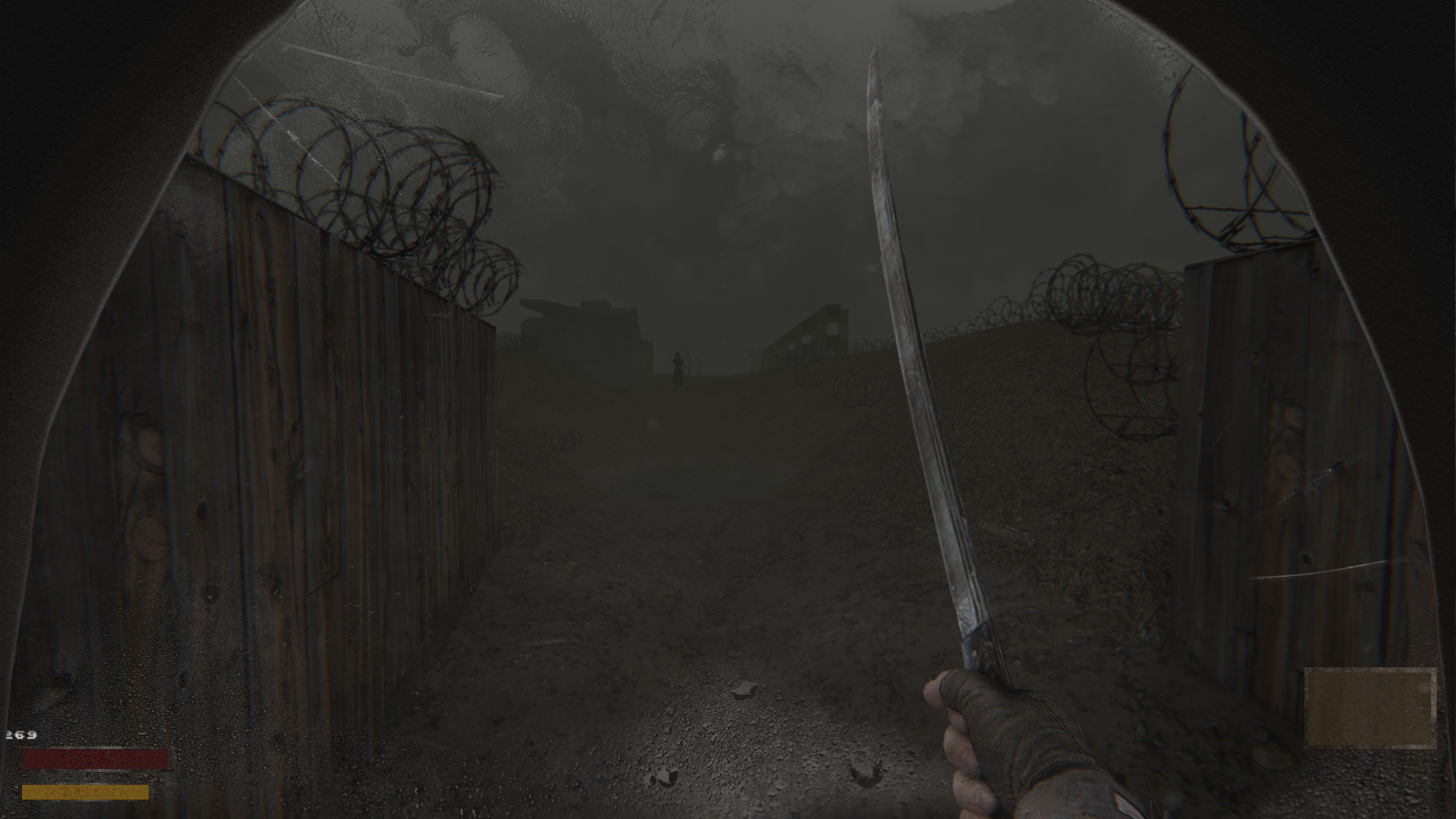 shashka
Will tell you about deathes and respawns in the next article. It`ll be soon.
Epilogue

Previous article
Gameplay aspects, Part I: Wandering
You`ll be able to shoot with these guns in the free demo. It is coming this June. So don`t forget to add the game in your wishlist to not to miss it.
The Game on Steam: Store.steampowered.com
See ya