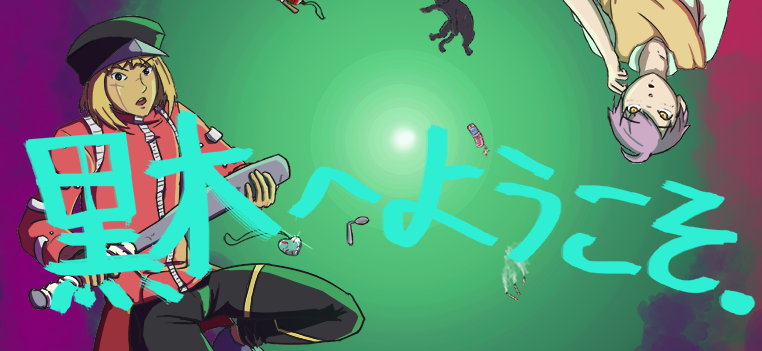 Hey there! We're indie dev studio Fenrir's Will, and we're proud to announce 'Project "Kurogi"', a 2D 'Stylish Action' hack n' slash game for PCs, currently in development. I'm Guilherme "Gulcasa" Santana, in charge of... mostly everything, from design to script writing to scenery to character animations, and working with me are Douglas "Doda" Clemente as lead programmer and sanity check, and Fernando "ffao" Fonseca as 'sixth ranger' and the guy we turn to when programming has us stumped.
About the Game
'Project "Kurogi"' - full title TBD - is a stylish 2D hack n' slash game, in slow-cooked development for a little over a year. If we're to draw comparisons to other games, it has a bit of Devil May Cry and Bayonetta and a sprinkle of Dust: An Elysian Tail, soaked in Japanese aesthetics. The game started off as a tiny project, little more than a demo with a combat arena and a city to take a break in, but as these things go, we've seen the potential in a full game and scope-creeped the hell out of it.
You control Ash, former baseball player turned wandering warrior, who travels across Japan on tips from his enigmatic informant, defeating mysterious, seemingly divine beings known as Servants in grueling battles, barely coming out alive each time. When his informant points him towards the sleepy town of Kurogi, he finds that he may finally be in over his head...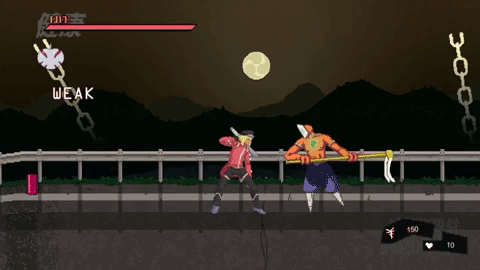 Combat flows in a 2D plane, with melee attacks, firearms, and plenty of movement options to avoid damage and dance around the enemies. Vary your attacks, juggle enemies, switch weapons on the fly and avoid taking damage to get a better 'Art of Combat' rating - and better rewards. The game is balanced around a "tough but fair" approach, with several difficulty settings, and to make combat feel as fair as possible, Ash and the enemies' hitboxes are as complex as a 2D fighting game's.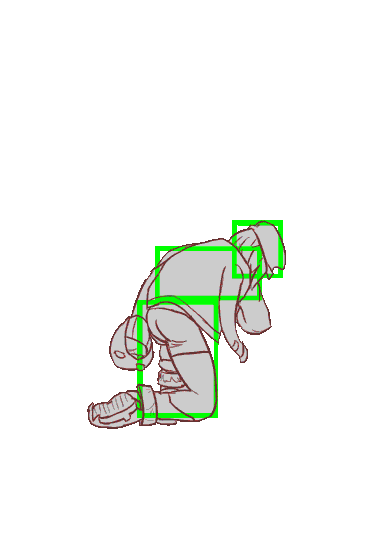 Outside of missions, you can explore the town of Kurogi, talk to its peculiar residents, buy items and weapon upgrades, strengthen Ash by offering the souls of your enemies at the Shrine, learn new moves, and more. There's also that strange girl you've met on the hospital...
Currently, we have planned:
complete, full-featured single-player experience, expected to last 3-4 hours on a first playthrough
beautiful, hand-crafted, high resolution pixel art
a moody, vivid soundtrack, inspired by Killer7, Akira Yamaoka and J-rock
five stages (as well as small intro and outro stages)
four distinct melee weapons, each with about a dozen different moves
three ranged weapons
currently around 9 distinct enemy types, each with complex movesets
an optional, visual-novel-esque side-plot in town
three different endings, depending on actions taken, and an optional superboss
optional side-quests
State of the Game & Release
We're planning a full-featured, Alpha release of the intro stage Soon™. It has four areas, two enemy types and a Boss, as well as two featured Melee weapons, a ranged weapon, and a story intro/outro.
Most of the scenery - by far the most time-consuming bit - is already done, and most of the work left to do are character and monster animations, as well as the story cutscenes and some of the UI. Most of the UI you see on these gifs is still placeholder, so pardon the crudeness.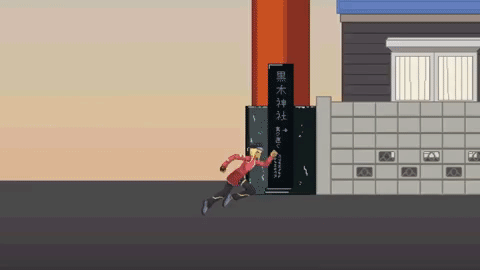 As you can guess, it's a lot of work for what's almost a one man project, and progress has been painfully slow, but we're continually polishing and adding to it when time allows. We expect - a very optimist expectation - for the Alpha Intro demo to be available to play around October, and we'll post any relevant updates here for the time being, as well as the demo itself when done. We hope you'll look forward to more updates - be sure to watch if you're interested, and leave a comment!