I've been lucky to work with a very capable and dedicated sound designer. Tom Byrne has been coding music into the game; given that The Last Time is an adventure which focuses on narrative and emotional scenes, having a fitting soundtrack is particularly important. The music changes in response to triggers in the game; in the above video, you can hear the music escalate as you walk into the burning building, incorporating the fire alarm SFX into the music. In addition, the crackling of the fire intensifies as you move from outside to inside.
Meanwhile, the game has been progressing smoothly; the story's all coming together, and I'm working to make sure that every scene has significance. As the game progresses, you learn more about the Jack, the protagonist, as your choices help to define him as a character. Crucially, you'll also see the impact that your choices have on others. It really is starting to feel like a retro-style version of modern adventures by the likes of Telltale and Quantic Dream, with some old-school point-and-click action thrown in. I'm making something that's not quite been done before, which is both nerve-racking and exciting. But mostly exciting.
Making the game as a solo indie dev (with the exception of audio outsourcing) has been a challenge. Fortunately, the development side of things has been made a lot easier by the fact that I'm using Adventure Creator, a plug-in for Unity that lets you make adventure games without a single line of code; essentially, it's a game engine within a game engine. Art and animation, however, has been more of a challenge. I'd rather have a game with great writing and 'ok' graphics than the other way round - though, fortunately, the graphics are shaping up to be decent in their own right. I've come quite a long way since my first attempts at pixel art less than a year ago; in the below screenshot, you can see how I've added texturing to my arsenal of artistic tools. This also means that I'm going back through some existing assets and 'upgrading' them.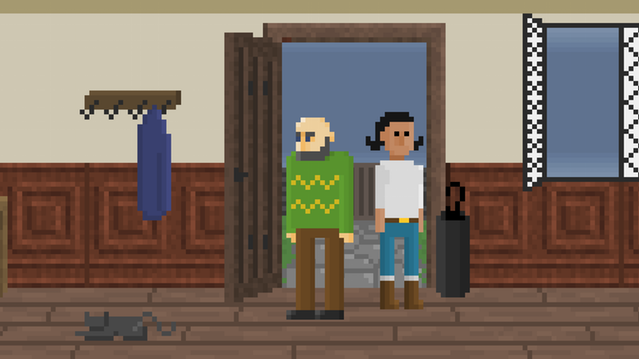 I'm looking to have The Last Time ready for beta testing in January 2016, with an aim to release in March. You can keep up to date on the game's progress by liking my Facebook page and following me on Twitter. You can also sign up to be notified when The Last Time is released via the mailing list on my website.
The game will initially be available for Windows, Mac and Linux via Steam and also DRM-free via other online platforms. An iPhone, iPad and Android release will follow.