The three types of enemies and their formation: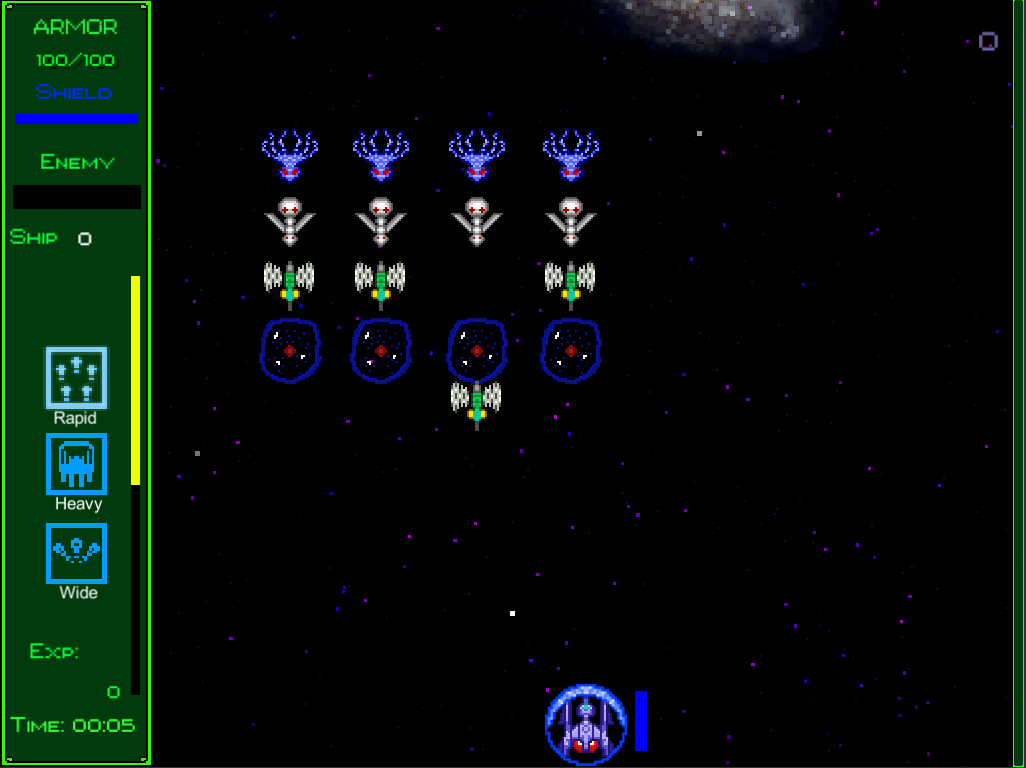 Enemies fly in formation, like in old-school arcade shooters. Some of them has an attack phase where they charge you or fly pass you while shooting.
There are 3 types of enemies that has a weakness for the corresponding weapon type.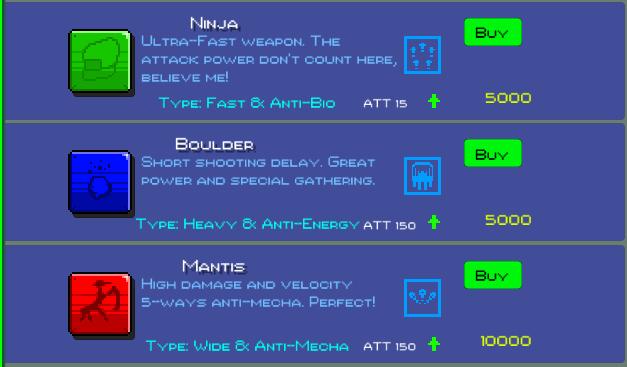 The Green Weapons are effective against Bio Aliens (the organic ones)
The Blue Weapons are effective against Energy Types Aliens (the ghosts like ones)
The Red weapons are effective against Mecha Type (the machines)
Here's a list of some Enemies:

Alien Bee
A weak enemy that has a formation phase and attack phase. They shoot low damage lasers.
It's a Bio Type enemy.

Alien Mosquito
A kamikaze alien. When in their attack phase, they dash on your ship with high velocity. Destroy them as soon as possible!
It's a Bio Type enemy.

Phantom Squid
Hard to hit aliens, when they are in their attack phase. They shoot lasers too.
It's a Energy Type enemy.

Energy UFO
When in attack phase, this enemy transform into a bomber that drop energy balls, that does heavy damage.
Another Energy Type of enemy (obviously)

Mecha-Fly
We don't know yet how the alien Insects are able to build cyber-aliens but they do... This one is like the Alien Bee. It descends on the ship while shooting lasers.
It's a Mecha Type of enemy.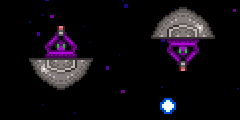 Alien Shell
This alien stay in formation, but is protected from your fire. Is shell cannot be destroyed with conventional weapons. You must wait for them to turn around and shoot you to kill them.
It's a Bio Type of enemy. His Shell is armored.

Alien Ant
This one is hard to kill and has a very dangerous attack phase. Also, it spit acid that can melt your armor for a short period of time. Destroy that alien at all cost!
It's a Bio Type of enemy.

Mecha Beetle
This enemy is a tank. It's a heavy class that shoot a powerfull blast of heat that can take down your shield easily. Kill it with heavy weaponry for maximum score!
It's a Mecha Type of enemy.

Jelly Blob
This weird life-from does not attack but is hard to kill. The aliens use them to protect other minions from your fire. You must take them down if you want to finish the wave as well.
It's a Bio Type of enemy.
More to come!
There are more enemies for me to complete coding and designing. After that, I'm working on the Bosses!