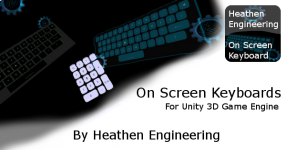 Heathen Engineering's On Screen Keyboard Unity asset is on sale for 50% off for the 20th of June. Heathen's On Screen Keyboard provides a means for developers to generate keyboards and keypads in any format they like quickly and easily.
You can get it now over on Unity's Asset Store or read more about the tool over on Heathen Engineering's main site where you can find the above video, a FAQ and a playable web demo.
The generated keyboards from this tool are highly flexible game objects capable of 2D or 3D style boards, a provided in editor extension allows the developer to define keys by row including there upper and lower variants as well as conveyance buttons in editor to auto generate QWERTY and AZERTY style keyboards.
The provided documentation which can be downloaded free from (here) walks the developer though setting up custom keyboard templates and provides guidance on modification of the system at large.
For the latest news follow us @HeathenEngineer or watch our IndieDB group page for more updates and news.