The new build (0.8.3.1) has just gone live and can be updated from within the Isomer launcher! This build brings together a month of work with lots of new features and improvements.
There have been a number of big improvements to the core game including the ability to select multiple units (up to 8 at a time) and issue mine/build/move and attack orders to the whole group. It is also possible to assign a unit or a whole group to a single numeric hotkey (Ctrl+[number] to assign, Alt+[number] to select and center and [number] to select) making commanding your squads much easier than in previous builds.

On top of this, there has been a relatively minor change to the way line of sight works however it has made a big difference to the way cover and exploration works. As of this build, large objects completely block line of sight!
The most obvious change to the world is the inclusion of a new biome - Jungle! Jungle areas are thick with trees and plant life and have similar resources to woodland areas, except there are far fewer stone resources close to the surface. They are also the best place to plant biomass seeding trees and the plants which you can then harvest for biomass resources grow most quickly in jungle areas. The thick and dense plant and tree life make them dangerous places coupled with the LoS upgrades as enemy units can hide and ambush your troops much more easily. Particularly at night so be careful!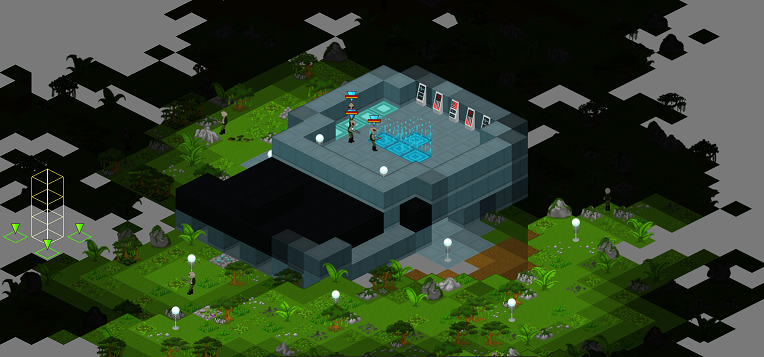 Here is the complete change list:
New: Added hot key selection for units. Ctrl + number stores a group of units. The number on its own selects them (Alt selection causes the view to shift to them). The group a unit belongs to is now shown next to their selection bar.
New: The hotkey group that an entity belongs to is persisted across save/load operations.
New: Added jungle biome.
New: Entities can now build on/in water blocks.
New: Added new night time music track and updated existing night time track with longer version.
New: Improved/refactored code relating to unit selection and multiselection.
New: Major refactoring / improvements to IsometricView module to support changes in mouse control and UI.
New: Multiselection HUD now shows entity previews and stats.
New: Added ability for mining and building orders to be issued to a group at a single time.
New: Added diagnostics for registry access errors to assist in debugging session code issue reported on forum.
New: Added blocking sprite inclusion in LoS calculations, FoW and LoS now take into account blocking objects within the world when calculating sight lines.
New: Added ability to cycle through selected units in the HUD.
New: Biomass seeding trees seed biomass plants most quickly in jungle.
New: Bumped entity file schema to 7 (save games from this version will not work with previous versions of Isomer).
New: Added improved loading and versioning of entity save file versions (Old versions of entity schemas will be automatically upgraded on save).
New: Added debug key to launcher and game which will log extra information about the session code exchange.
Improved: Adjusted energy costs for entity movement and changing direction.
Improved: Improved entity building task internal scheduling and error reporting.
Improved: Improved entity movement when potentially blocked by group motion.
Improved: Increased enemy AI aggressiveness at the top end of the scale.
Improved: Upped starting resources to 150.
Improved: Tweaked world generation parameters.
Bugfix: Fixed bug in launcher registry access reporting logs.
Bugfix: Fixed potential resource leaks on abandoned world load operations.
Bugfix: Fixed edge case with pathfinding where transport pads are present, but the closest one can't be reached easily leading to units just standing there.
Bugfix: Minor tweak to memory pool to utilise first element.
Bugfix: Fixed issue where a unit falling onto a water block wouldn't drown.
Bugfix: Reordered checking of session information to provide more suitable error message when information is invalid.
You can get access to the Isomer alpha either via the Humble Store widget or Desura!