Hello internets!
This is the first blog post of many as we keep you updated on all aspects of development. This includes blog posts and observations from the small collective of geniuses at the studio; including tutorials from our artists and animators, updates on frustrations and successes from the mighty programmers and as much info as we're allowed to divulge as we build the world of Eden Star for you awesome people to play... Plus we'll add some silly pictures and videos from time to time with very little to do with anything.
So, introductions...
Flix Interactive is composed of a very talented team that have worked together for years. Some work full and some part-time, whilst a core slave away on multiple projects, balancing Flix contracted work with building up our IP. Although we all have a huge passion for what we do, someone's got to hold it all together and keep the caffeine fueled insanity going!
John Tearle is a magic man. Rivers of beer, mountains of coffee beans, fantastic machines that massage our brains... But seriously, he's a great fella, and the glue that holds everything together and keeps the cogs whirring.
There are a few projects on the go at any one time, but Eden Star is our dream; the one everyone wants to crack on with, because every one of us wants to play it ourselves! Also there's many gameplay aspects that are entirely new for this genre of gameplay, challenging some of the mechanics found in big-budget titles, all coded by our in-house programmers and currently tested by our team.
The concept artwork you've been seeing has most recently been developed as benchmarks by our very own Art Director Mr. Matt (Mi' Lord) Clarky, with all additional conceptual awesomeness from our concept lead; Gav Li. These all provide the groundwork for the 3D Artists pipeline in order to prototype tech specs and texture sheets for certain modular assets, character sizes and more.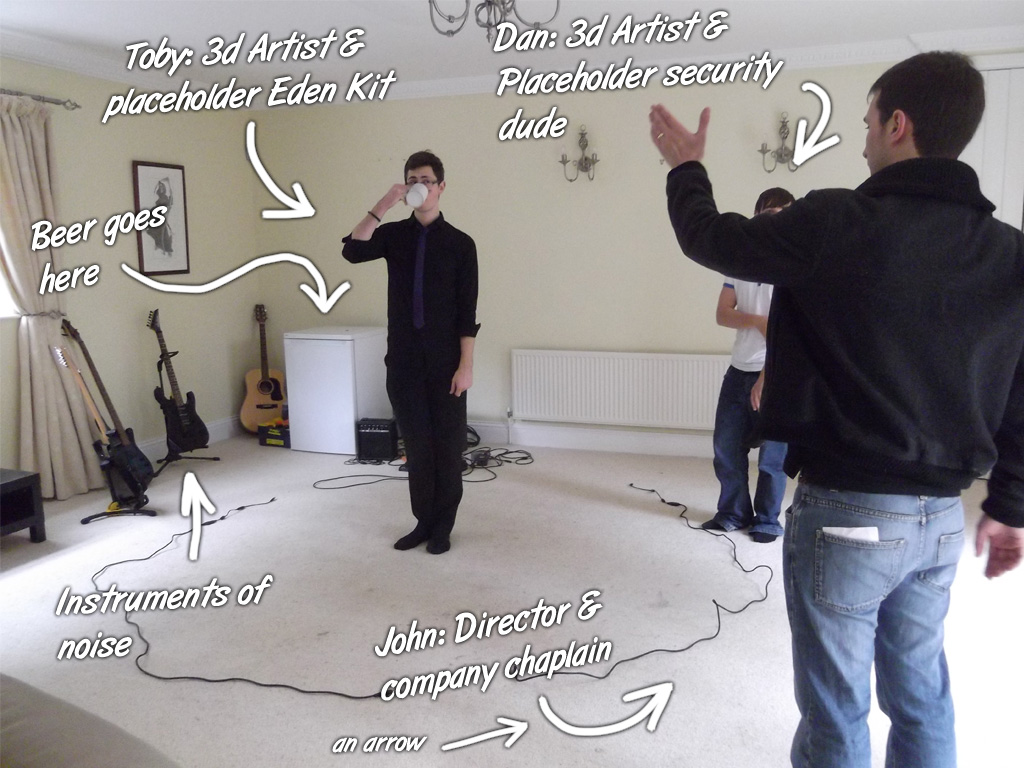 In the image above some of the team were working out some initial scene positions within the rec room for an upcoming trailer which should give people a flavor of what we're aiming for; this is done just to give ourselves a rough idea of scale and what elements will be in shot. The trailer is just one of the many elements that we're setting up for our Kickstarter campaign (please spead the word!) alongside the community site and some in-depth reveals of gameplay and progress.
We're all jumping about with awesome, nervous anticipation and excitement about how the community will respond; if and when the project launches in full, it'll enable us to create something original, fun and iterative, taking direction from supporters and evolving the game itself as time goes on with a host of regular updates. It's great but one hell of a job for a small team, but one that we're going to put all our effort into to making sure it succeeds.
This is becoming a bit of an essay, so I'll wrap up for now. I've actually got a buzz from writing this so late on a Friday night and so will have to take a lie down with a good bottle of ale!
Keep checking back for updates! See you soon!
Chris Warren - Artist & Animator for Eden Star