Remember to follow us on twitter for the latest updates and news:

thanks

Today I am going to be going over "Weapon Super Moves" in Corpses 'N Souls. Some of the topics covered today will include:
Super Move bar aka HUD item and its mechanics
Weapon Super Move mechanics
Types of Weapon Super Moves
With the addition of super moves in Corpses 'N Souls it adds another layer of gameplay and depth when you play and also adds a strategic component against your enemies. Not only are weapon super moves visually impressive they are also very powerful and useful. This is another important concept that has been added to Corpses 'N Souls.

*Please make sure you select : * 1440p or 4K in YouTube *
It is recommended to watch the video in YouTube's expanded [Theater Mode] or in [full screen] mode.

In the middle of the top of the screen is the Weapon Super Move HUD element. This HUD is activated if you have a certain grade of weapon and if you have invested a point into the "Weapon Super Moves" perk.
The seven skulls in the super move HUD needs to be completely filled before you can unleash your selected equipped weapon in your weapon/spell/skill bar. You can have up to 5 super moves equipped at one time.
To charge the weapon super move bar you simply just hold down your attack button. Before the HUD and the seven purple skulls begin to fill and charge the code will check if you have a large enough SP(soul points) pool to fire the super move. Each super move will cost a certain amount of SP. Super moves can be very costly and expend all of your SP pool at once and drain your pool. If you expend all of your SP you will be penalized on your SP regen and be de-buffed as well. This penalty can be countered with gear, attributes, and perks.
Here is the Weapon Super Move HUD in a normal state (not charged) :

Here is the Weapon Super Move HUD starting to charge :

Here is the Weapon Super Move HUD when it is almost charged :
Here is the Weapon Super Move HUD when it is fully charged, you can now unleash a Super Move:

Normally the purple SP(Soul Point) skull HUD element is full :

Here we see what happens if you unleash a Weapon Super Move, it has eaten up all 400 SP points and de-buffed you for -44 points to your SP pool and behind the seen has decreased your SP regen rate.

This is a sample of a bunch of Weapon Super Moves that are shown in the new video attached to this article. I am showing you the regular Icon of your weapon and what it looks like when the weapon/spell bar weapon icon dynamically switches to the Super Move version. The icon switch accrues when you hold down your attack button and charge your super move bar.

Regular state: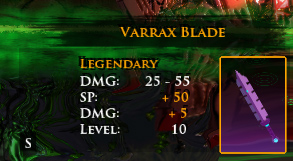 Super Move state: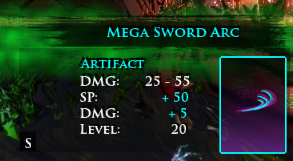 Regular state: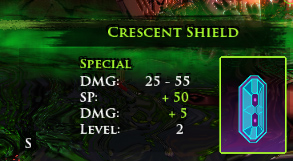 Super Move state: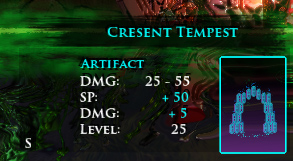 Regular state: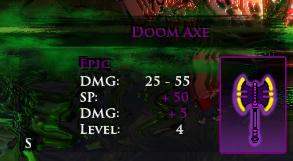 Super Move state: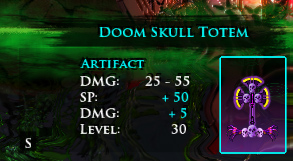 Weapon super moves are special attacks, buffs, summons, defence abilities, offensive abilities and other abilities that are super power abilities that are unleashed after you charge you weapon with your attack button. The grade of your weapon determines the power and type of super move that is imbued within it. By looking at the super move HUD bar at the top of the screen you can tell when it is fully charged. When the HUD is red in colour and it has all of its 7 skulls lit/filled up you have hit the MAX state aka it is ready.
Also when beginning to charge your weapon your body will be engulfed in a Soul Fire, the Soul Fire will glow at full charge and a specific colour that is your weapon's soul fire type. So as you see in the pictures below the Soul Fire can be light blue, dark blue, yellow, purple and various other colours. I again leverage my two particle engines to create some cool interactive particles and effects when you charge your weapon during the charging state.
The basics of Weapon Super Moves is to add a point in the "Weapon Super Move" perk and then find a loot drop of a higher grade weapon. Once you meet those requirements you simply hold down the attack button until the Super Move HUD bar is fully charged and the Soul Fire is no longer light blue.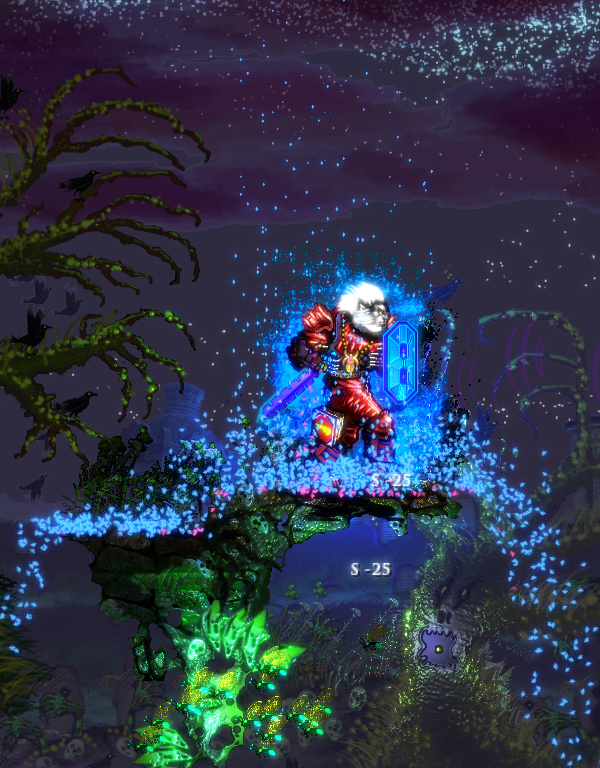 At this point your weapon is fully charged and ready to unleash its special ability. If we did not have enough SP in your current pool(the purple skull on the right of the weapon/spell bar) you would not be able to begin the charge in the first place and the action would be cancelled/locked.

Here we can see the different colours of Soul Fires as we are at MAX super move charge state.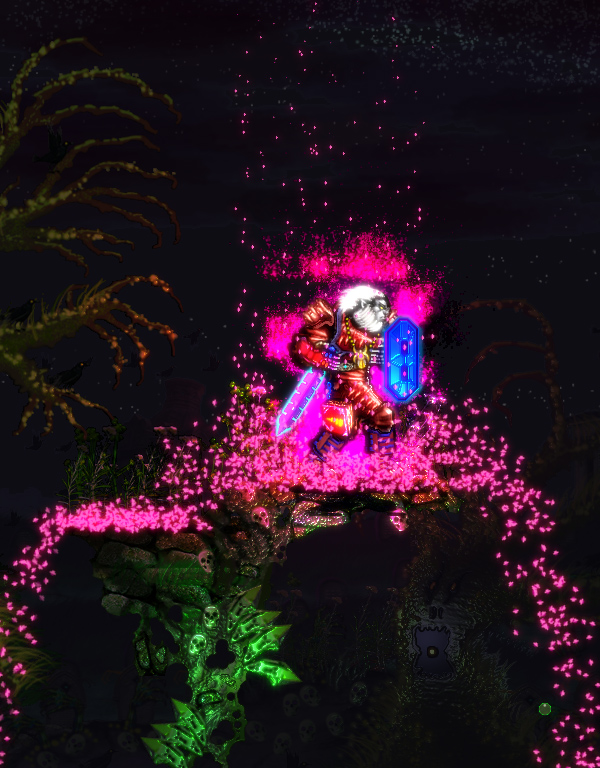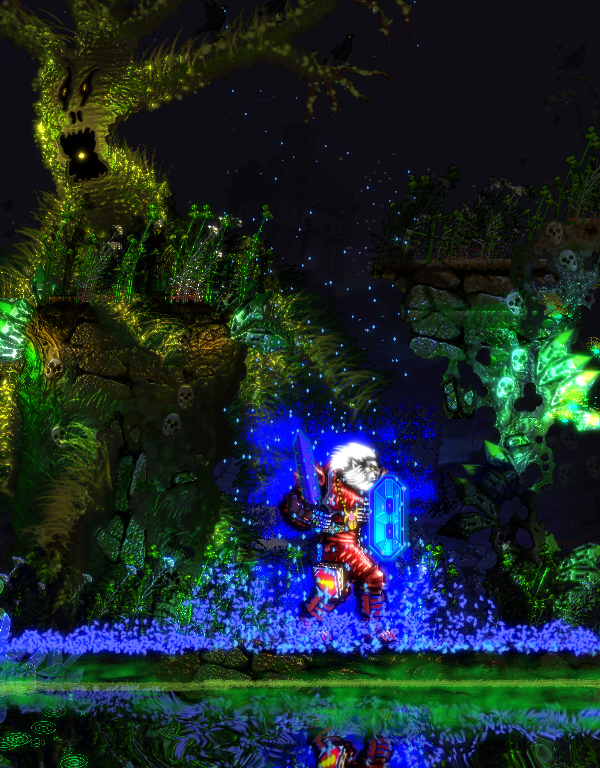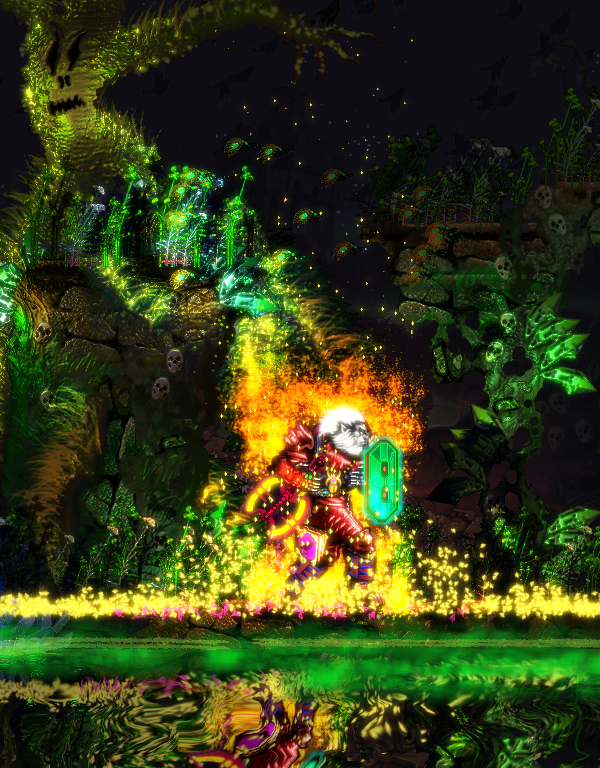 Like I said weapon super moves are special abilities unleashed from your weapon. These abilities can come in many forms to help aid you in battle and out of battle, here are some of the different types of super moves:
Special Attack(s)
Buffs
Summons
Defence Ability
Offensive Ability
Utility Ability
Guard Break
It is up to the player to decide what weapon to equip for a specific special ability and when to use a certain special ability(aka the super move). You must choose wisely when to unleash a super move for it may leave you vulnerable, stunned, depleted SP pool or have a de-buff applied to you as a result of casting the super move. This adds more depth to the gameplay of Corpses 'N Souls and makes sure you can not simply spam Super Moves and press "I win!", you must plan it out and think.
Here are some shots of the three super moves shown in the video attached to this article: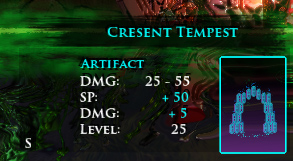 The Cresent Tempest is a Buff and Defensive shield type super move. Shields rain from the sky and build a shielded cage around you that deflects projectiles and stops enemies for reaching you. While within the shielded cage your regen rates increases dramatically.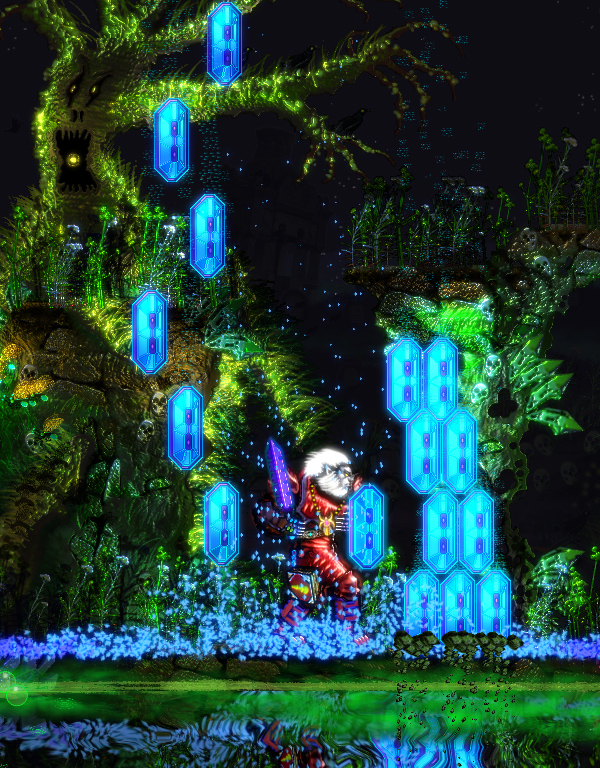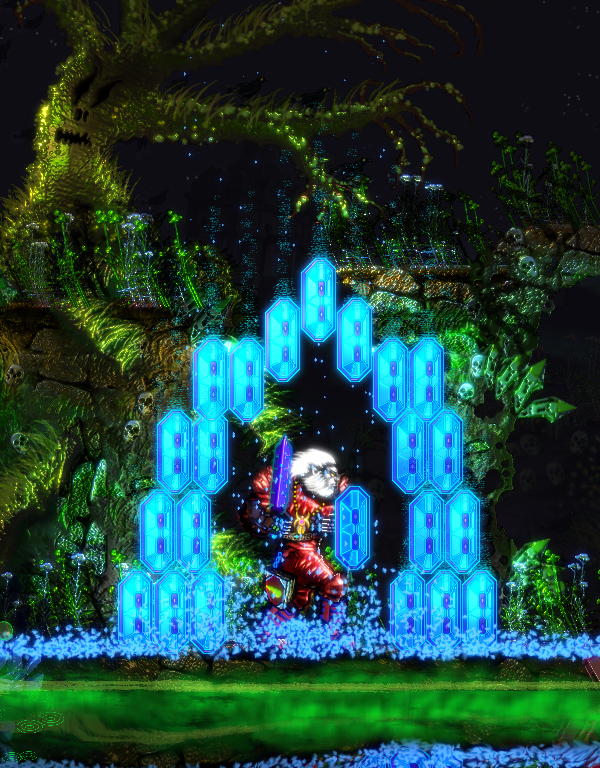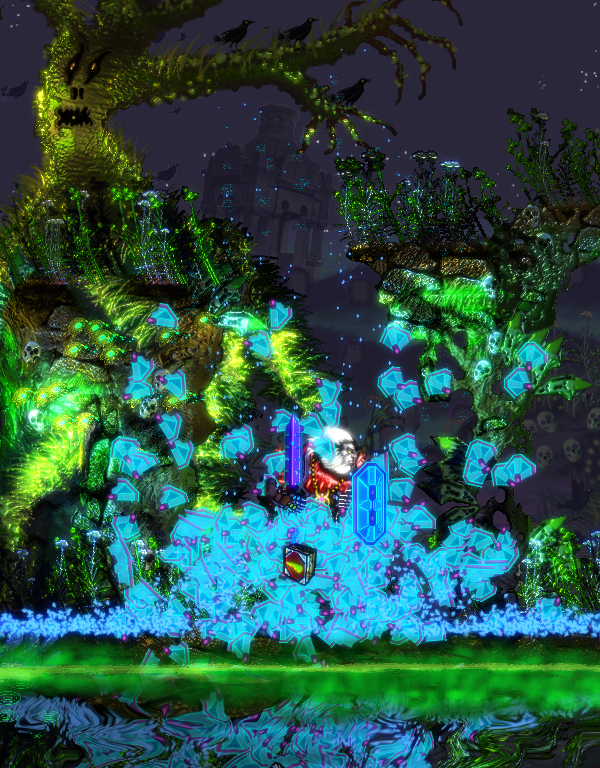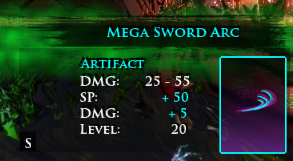 The Mega Sword Arc is a very powerful offensive super attack that deals massive damage in a area effect as it moves across the screen. Ryu would be proud to see this super move unleashed.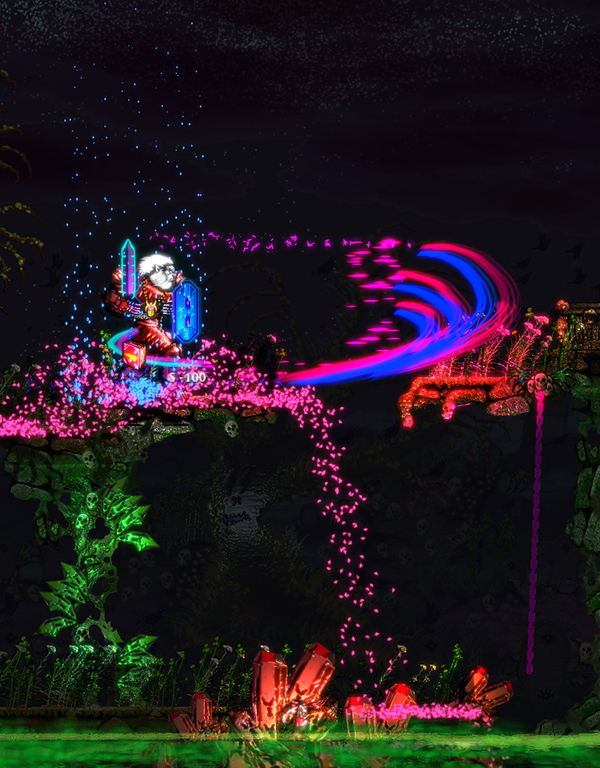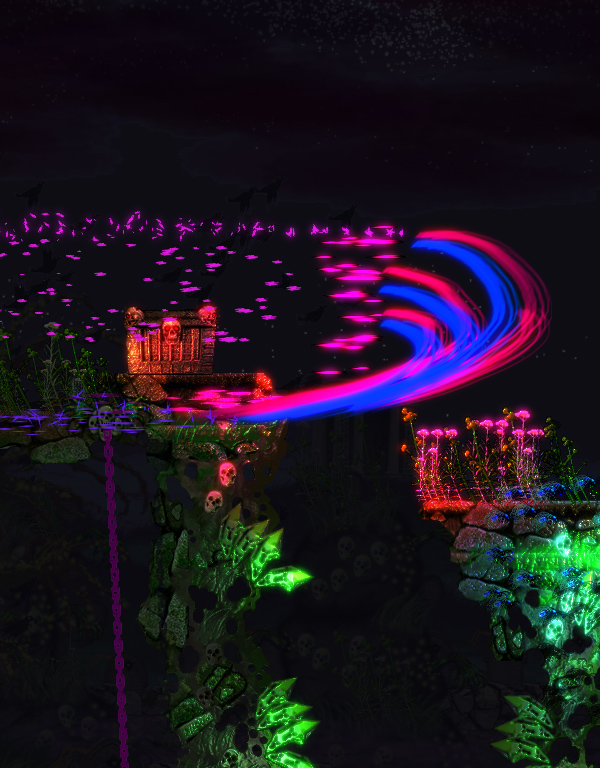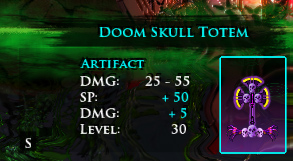 The Doom Skull Totem is a offensive utility that acts as a offensive turret that continuously fires small blades from the Doom Skull Totem. Resurrected from the depths of the planets core the Doom Skull Totem adds fire power to your side and is helpful in a boss battle.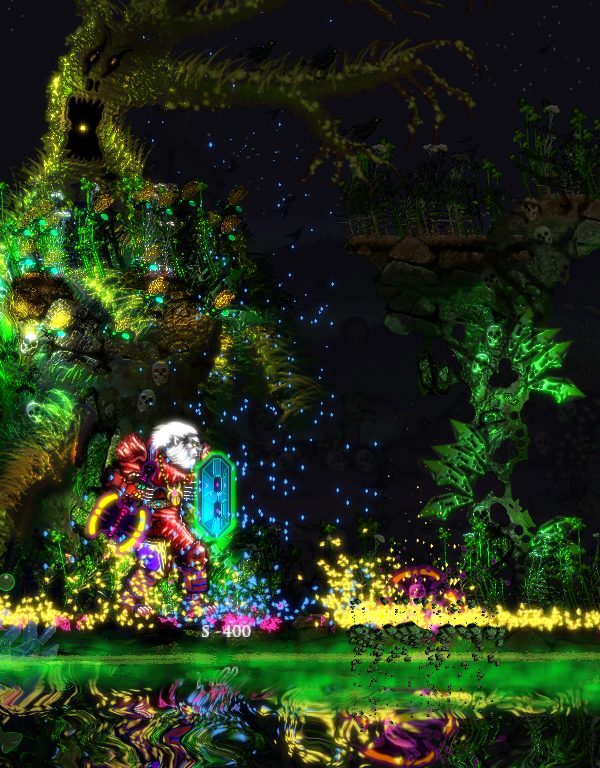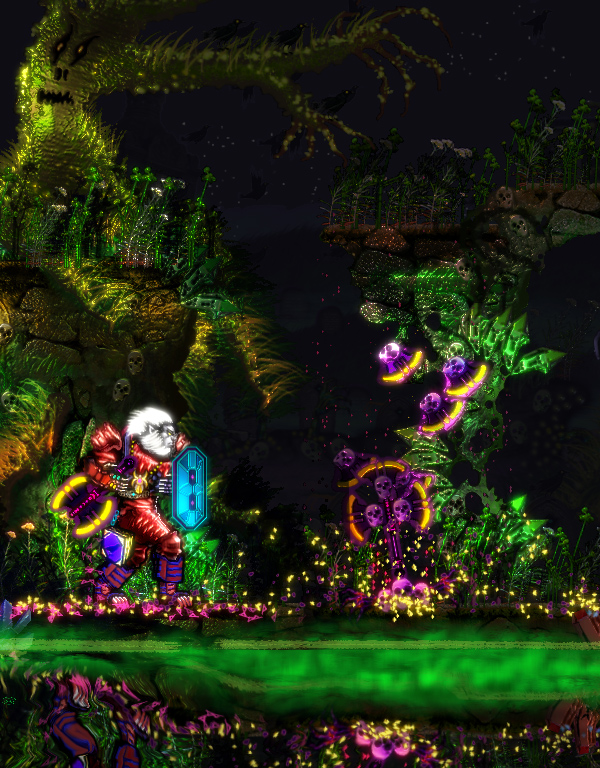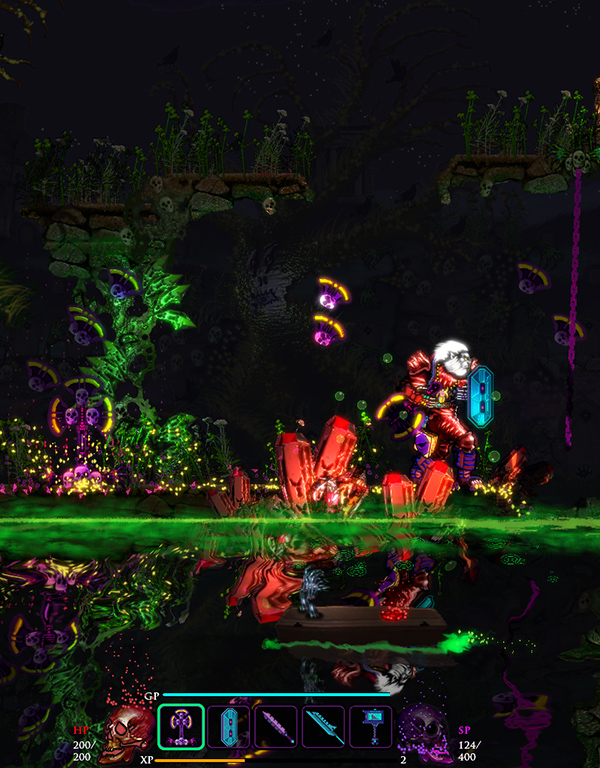 This concludes the Weapon Super Move article for Corpses 'N Souls. I hope you enjoyed the article and it gave you a glimpse of the cool super move mechanics and what abilities you can expect that are in store for the combat of Corpses'N Souls.
Well till next time happy gaming, 2015 has been a crazy good year I look forward to 2016. Remember to stay locked to indieDB and @SideScrollSTUs for the latest info on Corpses 'N Souls.
Remember to follow us on twitter for the latest updates and news:

thanks